LIT COMMENTARY
We're reviewing the attorneys who are listed on the CFPB v. Ocwen case in Florida, who are representing Ocwen. This article focuses on the background of liar lawyer Laura Stoll (Laura A. Stoll) and her unethical practices as a partner for this big law firm. She works out of the Los Angeles office.
Laura is a member of the State Bar of California and you can see the current rules for lawyer professional conduct here and all the disciplinary cases against lawyers here.
Major Class Actions to Protect L.A. Homeowners from PACE Loans
Los Angeles County Homeowners Allege That "Green" Loans Are Predatory
These lawsuits are about "Property Assessed Clean Energy" (PACE) loans made by the County of Los Angeles. PACE is meant to help low- and moderate-income households make home improvements that will help the environment and lower energy their costs.
The lawsuits allege that the County's PACE program harmed many homeowners by making loans that people could not afford to repay. Instead of getting "green" homes, the plaintiffs may lose their homes to foreclosure.
The County hired two companies to implement its PACE program. Those companies are also defendants in the lawsuits: Renovate America does business under the brand name "HERO" and Renew Financial does business under the brand name "California First."
Key documents
That's exactly what happened to me—what should I do?
If you believe that you may be a class member, you should preserve all the documents that could support your claim. That means contracts, emails, text messages, bills and anything else relating to:
The contractor you worked with,
The work that was done (or not done),
The Renovate America/HERO or Renew Financial/California First financing,
Your property taxes, and
Your income and debts at the time of the contract(s).
File a Claim with the County for Cancellation of PACE Taxes
The County has taken the position that you must file a claim with the County asking for cancellation of your PACE taxes, before you can ask a court to cancel your PACE taxes. You do not need to be a potential member of our class action lawsuits to ask the County to cancel your PACE taxes.
The window to file a cancellation claim with the County Assessment Appeals Board is from July 2nd to November 30th every year.
If possible, you should also speak to an attorney. You may not be a class member, or your deadlines to file your own lawsuit may expire while these lawsuits are pending, which means you could lose your right to file an action if these lawsuits are not certified as class actions or are unsuccessful.
Even if these lawsuits are successful, you may have individual claims (such as fraud) that are not part of these class actions.
If you live in LA County and have Renovate America ("HERO") or Renew Financial ("CalFirst") financing from before April 1, 2018, please complete this application for services and someone from our office will contact you. 
I don't have an attorney but I want to take action.
Here are some things you can do without a lawyer:
File a Claim with the County for Cancellation of PACE Taxes. (See above for the forms and a self-help guide).
File a complaint with the Contractor's State License Board. Be as specific as possible in your complaint, and send supporting documents.
Write to your County Supervisor, and your state and federal representatives. Try to be thorough but concise.
Write to or file a complaint with the California Attorney General and/or the Department of Financial Protection and Innovation.
File a complaint with the Consumer Financial Protection Bureau. The CFPB is not currently handling PACE issues, but they are interested in it. By filing a complaint, you will send a message that they need to accept complaints about PACE.
If you can afford to pay a lawyer, a good way to find one who knows about home improvement contracts and PACE financing is through the Los Angeles County Bar Association at (213) 243-1525 or the Beverly Hills Bar Association Lawyer Referral and Information Service (which is free if you use the online form) or you can call (310) 601-2440.
"IMPROPER SHIELDING OF EVIDENCE"
Laura Stoll Authored a Book About Shielding of Evidence and then Proceeds to be Guilty of the Same Crime, Concealing and Withholding Evidence from the Intervenor-Burkes in the Florida Case of CFPB v. Ocwen and Where She was Named Counsel for Ocwen.
"Ms. Stoll authored "We Decline to Address": Resolving the Unanswered Questions Left by Rojas v. Superior Court to Encourage Mediation and Prevent the Improper Shielding of Evidence, 53 UCLA L. Rev. 1549 (2006)."
Liar Lawyer Laura A. Stoll is On Bet Tzedek's Board, Yet She is Guilty of Unlawful Acts Against Those She Claims to Protect.
From their website, the claimed mission statement:
Hundreds of thousands of Angelenos cannot afford housing, food, or medicine – let alone an attorney.
Even though free legal aid helps ensure access to justice and basic necessities for the most vulnerable among us, there is not enough legal aid available: for every legal aid attorney in California, there are more than 8,000 eligible clients who need assistance.
Bet Tzedek is a non-profit law firm committed to addressing this challenge. We provide free, comprehensive legal assistance and representation, volunteer and court-based self-help services, and legal education to more than 40,000 people each year.
Bet Tzedek's services keep families in their homes; secure care for those with physical, developmental or intellectual disabilities; protect seniors from abuse and real estate fraud; ensure access to safe housing and legal wages; and obtain guardianships for children to stay in safe, stable homes.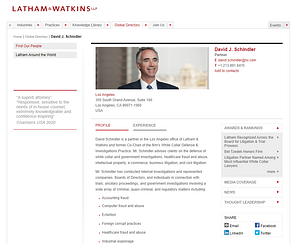 Mr. Schindler is an experienced and well-respected speaker and has delivered lectures and instruction throughout the world on conducting internal investigations, financial statement fraud, healthcare fraud and abuse, computer law, cybercrime, computer intrusions, and corporate compliance.
David Schindler is a partner in the Los Angeles office of Latham & Watkins and former Co-Chair of the firm's White Collar Defense & Investigations Practice. Mr. Schindler advises clients on the defense of white collar and government investigations, healthcare fraud and abuse, intellectual property, e-commerce, business litigation, and civil litigation.
Mr. Schindler has conducted internal investigations and represented companies, Boards of Directors, and individuals in connection with trials, ancillary proceedings, and government investigations involving a wide array of criminal, quasi-criminal, and regulatory matters including:
Accounting fraud
Computer fraud and abuse
Extortion
Foreign corrupt practices
Healthcare fraud and abuse
Industrial espionage
Securities fraud
Taxation
Darrell Brown, Executive Committee Member
Darrell Brown
*Meryl K. Chae, Executive Committee Member
Skadden Arps
Geoffrey Gold, Esq., Executive Committee Member
Ervin Cohen & Jessup LLP
*Luis Lainer, Executive Committee Member
Lainer Investments
*Stanley W. Levy, Executive Committee Member
WorkingNation
Todd C. Toral
Jenner & Block LLP