LIT COMMENTARY
The article by the Chron below needs correction. It states Quinn is CEO of Empower Texans. But that's incorrect as he's dissolved the PAC in October 2020 according to social media and internet reporting.
It does, however, appear as though Michael Quinn Sullivan's appeal to the 3rd Court of Appeals has been made while the entity Empower Texans continues it's 'media and brand' dissolution. Certainly, the EmpowerTexans.com website has a notice (last checked March 4, 2021) stating This Website Does Not Exist Any Longer.
Sullivan's twitter profile currently links and references only Texas Scorecard, which now seems to be Sullivan's fall-back entity after his court losses.
And review of the docket in the above appeal shows that Quinn has not paid for the court reporter's report, which has slowed down the case, allowing him to continue reformatting his current business interests and finances in the interim.
It will be interesting to see what Texas 'Ethics' Commission has to say, if anything (publicly), about this delay and how it affects the overall case wherein they fined Sullivan personally $10k for not registering as a lobbyist.
Judge orders Empower Texans CEO Michael Quinn Sullivan to pay ethics fines
JAN 20, 2021 | REPUBLISHED BY LIT: MAR 4, 2021
A district judge in Travis County has dismissed a case brought by conservative activist Michael Quinn Sullivan and ordered him to pay thousands of dollars in ethics fines that date back over a decade.
In a recent two-page summary judgment, Judge Catherine A. Mauzy sided with the Texas Ethics Commission and ordered Sullivan to pay $10,000 in civil penalties for his failure to register as a lobbyist in 2010 and 2011 while he was spending time chatting up state lawmakers about legislation, a House speaker race and other conservative causes. The commission was awarded court costs in the case.
HILARIOUS MISSION STATEMENT FROM TEXAS SCORECARD WEBSITE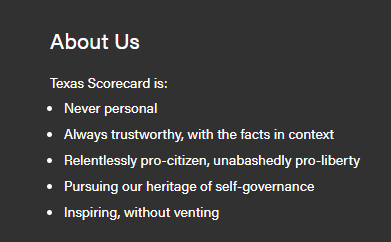 "This case has taken several twists and turns over the past few years as Mr. Sullivan sought to challenge the authority of the Ethics Commission, but underneath it all, it is a very simple, straightforward case,"
said the agency's general counsel, J.R. Johnson.
"Mr. Sullivan engaged in conduct that required him to register as a lobbyist under Texas law. We are happy to finally have a decision on the merits, and we believe the court reached the right answer."
Sullivan is the CEO of Empower Texans, a well-funded conservative advocacy group made up of a web of political action committees as well as nonprofits that aren't required to report donors. His lawyer Tony McDonald has filed a notice of appeal to the Austin-based 3rd Court of Appeals.
"The speech regulators at the TEC want to build a hedge around the capitol, to stop everyday Texans from talking to their legislators," McDonald said. "We are appealing because Texas shouldn't tax and punish citizens for petitioning their government."
Empower Texans PAC, a major player in this decade's contested Republican primaries, has been dissolved. It's final contribution (~$23K) was to Rep. Tony Tinderholt (R-Arlington), zeroing out its balance. #txlege pic.twitter.com/O4Awbu8WmH

— Texas Election Source (@TXElects) October 6, 2020
Texas Ethics Commission chair Chad Craycraft disagreed with that characterization.
"Texas law does not prohibit anyone, including Mr. Sullivan, from petitioning their government," Craycraft said.
"However, lobbyists who are paid to advocate on behalf of another at the Legislature are required to disclose the source of those payments. These kinds of basic disclosure requirements have been upheld many times by the United States Supreme Court and ensure that the electorate can make informed decisions."
The case, which has bounced from court to court for years, was revived in 2018 by the 3rd Court of Appeals after already having been dismissed two years prior by a district judge in Travis County. Sullivan had attempted to have the case dismissed by the Texas Supreme Court, but it ruled in favor of the commission in June 2019.
The allegations stem from 2012 complaints from two Republican House members who allege that Sullivan's work influencing lawmakers on behalf of Empower Texans should have required him to register as a lobbyist. Sullivan said the work he was doing was journalism, as the organization also runs a political news and opinion blog, but the commission did not accept that explanation and charged him the maximum fine of $10,000.
In a parallel court case, Sullivan is trying to gut the state agency, alleging that the Texas Ethics Commission does not have the legal authority to carry out actions such as levying fines for campaign finance law violations, saying only an executive branch agency, not a legislative branch agency, can enforce laws.
That suit, which is before the 8th Court of Appeals in El Paso, has the potential to reorganize the ethics commission, which already has some of the weakest enforcement capabilities in the country.
The agency has had to hire its own lawyers in these cases after Attorney General Ken Paxton, who has received more than $400,000 in campaign contributions from Empower Texans since 2009, declined to represent the ethics commission.
Paxton has said he has a "duty to uphold the Constitution" that trumps his legal obligation to defend challenges to state laws, state agencies and state employees.