Parx Casino names former Trump Entertainment, Isle of Capri exec as new CEO
 Jan. 11, 2020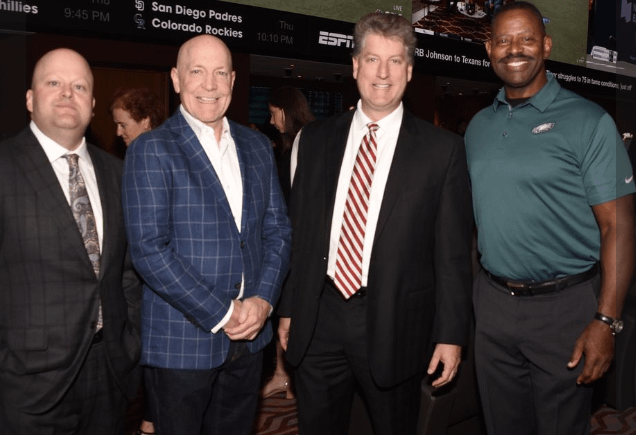 A longtime gaming executive has been appointed as the new CEO of Greenwood Racing Inc., the parent company of Parx Casino in Bensalem.
The hiring of Eric Hausler brings a several-month period in which the casino operated without a chief executive to a close.
Hausler will step into the role at Parx — the largest casino in Pennsylvania — on Jan. 20, subject to approval and licensing by the Pennsylvania Gaming Control Board. Former Greenwood Racing CEO Anthony Ricci retired last April after holding the position since 2012. Parx has since been managed by an executive committee consisting of the chief operating officer, chief financial officer and general counsel.
Hausler most recently served as a director of VICI Properties Inc. (NYSE: VICI), a real estate investment trust company with a portfolio featuring 22 gaming properties across the country, including Caesars Palace in Las Vegas and Atlantic City, as well as Harrah's Philadelphia.
Before that, Hausler worked as CEO of Missouri-based Isle of Capri Casinos Inc., where he had grown through the ranks of CFO, chief strategic officer and senior vice president of strategic initiatives.
Hausler has experience in the New Jersey gaming market and the investment banking industry.
He's previously served as senior vice president of development for Trump Entertainment Resorts, Inc. and in various roles with Bear Stearns & Co. Inc., Susquehanna Financial Group and Deutsche Bank Securities Inc.
Parx holds more than 3,200 slot machines and nearly 200 table games. The complex includes a racetrack and recently opened $10 million, 7,400-square-foot sportsbook.
Parx pulled in total revenue of $54.3 million in November, up 12.6% over the same month a year before.
One of the causes for the Panic of 1893 can be traced back to Argentina. One of the causes for the Panic of 2019 can be traced back to Argentina, another to Trumps' Cabinet of Bankers. In 1893 @JPMorgan had to Bail Out the President, this time round it was @DeutscheBank #Panic

— LawsInTexas (@lawsintexasusa) August 14, 2019
#DidYouKnow MORTGAGE FRAUD – BANK FINES NO JAIL; Including both cash and non-cash consideration such as consumer relief, Bank of America paid $16.65 billion ; J.P. Morgan, $13 billion; Deutsche Bank, $7.2 billion; CORRECTION $0, THE GERMANS SAID HELL NO; THE DON OWES US! #Trump

— LawsInTexas (@lawsintexasusa) August 12, 2019

Mr. Hausler held the position of Chief Executive Officer of Isle of Capri Casinos, Inc. (NYSE: ISLE), a developer, owner and operator of branded gaming facilities and related dining, lodging and entertainment facilities in regional markets in the United States, since April 2016.
Prior to that, Mr. Hausler served as ISLE's Chief Financial Officer from 2014 to 2016, as its Chief Strategic Officer from 2011 to 2014, and as its Senior Vice President, Strategic Initiatives from 2009 to 2011.
Mr. Hausler retired from ISLE in May 2017 immediately following the company's merger with Eldorado Resorts.
From 2006 to 2009, Mr. Hausler served as Senior Vice President of Development for Trump Entertainment Resorts, Inc., which filed for Chapter 11 bankruptcy in February 2009. From 2005 to 2006, Mr. Hausler served as Managing Director in Fixed Income Research, covering the gaming, lodging and leisure industries for Bear Stearns & Co. Inc.
From 2003 to 2005, Mr. Hausler was a Senior Equity Analyst for Susquehanna Financial Group covering the gaming industry.
Mr. Hausler also held positions in equity research covering the gaming, lodging and leisure industries at Bear Stearns & Co. Inc. and Deutsche Bank Securities Inc. from 1999 to 2003.
Prior to working in securities research, from 1996 to 1999, Mr. Hausler worked for the New Jersey Casino Control Commission.
Mr. Hausler holds a Bachelor's degree from Binghamton University and a Master's degree from the New Jersey Institute of Technology.
Mr. Hausler's extensive expertise leading companies in the gaming, entertainment and real estate industries, as well as his experience in the capital markets, regulatory and acquisitions and divestiture fields in these industries will be valuable to the achievement of the Company's business strategy.
Eric L. Hausler
Executive Compensation
As Chief Financial Officer at ISLE OF CAPRI CASINOS INC, Eric L. Hausler made $1,675,632 in total compensation. Of this total $454,500 was received as a salary, $461,989 was received as a bonus, $265,346 was received in stock options, $493,797 was awarded as stock and $0 came from other types of compensation. This information is according to proxy statements filed for the 2016 fiscal year.