Sygenta Case (April 2018)
Farmers sue their own lawyers at Watts Guerra, claiming fraud in Syngenta GMO case
Alison Frankel
(Reuters) – Three North Dakota farmers filed a class action Tuesday against the Texas plaintiffs' firm Watts Guerra, alleging that Watts and a dozen co-counsel duped nearly 60,000 farmers into signing 40 percent contingency fee agreements in nationwide litigation against the agricultural company Syngenta, then cut secret deals to preserve the contingency fees by excluding Watts clients from state and federal class actions against the company. The Minnesota federal court class action asserts racketeering, conspiracy, fraud and state-law claims against Watts and the other defendants. The suit asks, among other things, for a declaration that the contingency fee agreements are void.
Mikal Watts of Watts Guerra said in a phone interview Wednesday that the new class action is "frivolous and meritless," and that the farmers' lawyer, Douglas Nill of FarmLaw, is uninformed about the Syngenta litigation.
Last September, the agricultural giant agreed to a $1.5 billion settlement to resolve nationwide claims by hundreds of thousands of U.S. corn farmers who blamed Syngenta for pushing sales of genetically modified seeds that produced a crop China refused to import. The settlement, structured as a class deal, resolves claims by Watts Guerra clients as well as corn farmers not represented by the firm. It received preliminary approval earlier this month from U.S. District Judge John Lungstrum of Kansas City, Kansas, who is overseeing consolidated litigation in federal court.
"We have done a good job and we've done it ethically," Watts said. "Every dollar I'm going to earn in this case is a fee earned."
In a press release issued after our interview, Watts added, "My firm has spent tens of millions of dollars and invested tens of thousands of hours, and worked over the past four years with other fine law firms across the Corn Belt, who collectively applied the herculean pressure required to force Syngenta to settle this case brought on behalf of American corn farmers for $1.5 billion … I worked diligently and ethically to achieve the task I was appointed to undertake, and did so at the direction of two excellent special masters operating under the careful supervision of three judges, in both state and federal courts."
Watts, as you may recall, has weathered far worse than fraud allegations in a civil suit. In 2016, he was acquitted by a federal jury in Mississippi on charges that he orchestrated a scheme to defraud the oil company BP by filing claims on behalf of tens of thousands of "phantom clients." Watts, who represented himself at the criminal trial, blamed outside investigators for supplying his firm with flawed information about seafood workers who purportedly suffered economic injuries after the Deepwater Horizon oil spill.
Regardless of what happens in the new class action, this case – like the Volkswagen clean diesel and NFL concussion cases – raises tough questions about the obligations of lawyers who represent individual clients in litigation resolved through sweeping class action settlements.
As the complaint alleges, U.S. corn farmers who never filed their own suits against Syngenta will just have to pay court-awarded fees to class counsel. But those who followed Watts Guerra's exhortations and retained the firm to file individual suits are facing 40 percent contingency fees on top of fees for class counsel.
Even if the MDL judge awards class counsel only 10 percent of the settlement, Watts Guerra clients will see nearly half of their recovery consumed by legal fees, according to the complaint. That would be "grotesque," the complaint said.
It's all the more galling, the new suit contends, because Watts Guerra and the other defendants deceived their clients about the relative merits and drawbacks of filing their own suits and then supposedly made sure the farmers they represented would not be notified about developments in the federal case in Kansas City or a statewide class action in state court in Minnesota.
According to the complaint, Watts Guerra and its co-counsel engineered a media and advertising blitz to sign up clients across the Corn Belt. They held town halls, set up websites and ran television and print ads targeting farmers. The message was consistent, according to the complaint: If farmers wanted to end up with more than a coupon or a free bag of seed, they should not rely on a class action but should instead protect their rights by filing their own lawsuit.
Between 50,000 and 60,000 farmers ended up signing contingency fee contracts with Watts Guerra and its affiliates – some of them after classes were certified in Minnesota and in federal court and Syngenta entered global settlement talks.
The complaint's most controversial allegations, in my mind, involve supposed deals between Watts Guerra and class counsel to keep Watts Guerra's clients in the dark about the class actions.
According to the suit, Watts Guerra signed joint prosecution agreements in both the federal and Minnesota cases. Class counsel agreed to exclude Watts Guerra clients from class certification motions, and in return Watts Guerra allegedly agreed not to oppose class certification and to pay a big chunk of assessed common benefit fees to class counsel.
The complaint contends that the judges who certified the Minnesota and federal classes did not realize that Watts Guerra was not providing class notices to its clients. (According to the suit, Watts Guerra informed clients of the joint prosecution agreements more than a year after they were signed, and then only to let them know they didn't need to opt out of the class.)
"Defendants effectively opted farmers out of the class proceedings without informing them of their options and rights," the complaint alleges. "In short, the due process and equal protection rights of 60,000 farmers were not protected; they were not able to exercise their individual right to be part of the class or opt-out of it; they were not given court-approved notice that they were members of the class proceedings nor were they able to make their own choice in deciding whether or not to opt-out of the federal MDL and Minnesota classes."
Watts told me there was nothing secret or improper about the joint prosecution agreements, which simply reflected the cooperation between his firm and lawyers for the class as they squeezed Syngenta. He said he obtained ethics opinions okaying the agreements before he signed them. His press release said the complaint "is not worth the paper it is written on, nor the ink it took to pollute the pages of (the) petition."
It's obviously within the bounds of ethics for a lawyer to advise clients to opt out of a class action settlement if you think you can get a better deal for them. Watts may well have thought he could use the leverage of his enormous inventory of cases to obtain a premium for his clients. But according to the complaint, his clients will end up with the same terms as class members who weren't represented by Watts Guerra – except they'll also have to pay contingency fees. (Watt declined to say whether he would seek to enforce his private fee agreements but did say the MDL lawyer has the inherent power to oversee his fees.)
Lead counsel in the federal Syngenta MDL – Don Downing of Gray Ritter & Graham, Patrick Stueve of Stueve Siegel Hanson, Scott Powell of Hare Wynn Newell & Newton and William Chaney of Gray Reed & McGraw – sent an email statement in response to my email asking about allegations that they colluded with Watts to exclude his clients from the class. (They are not named as defendants in the suit.)
"All joint prosecution agreements, including the one in question in this lawsuit, were disclosed to the court," the statement said. "It included provisions concerning any potential future payments of common benefit assessments that would be awarded by the court for work done on the cases by lead counsel only if the MDL class cases were ultimately not certified as a class action … Because we reached a nationwide class settlement agreement, such provisions for future payments of common benefit assessments do not apply. Mr. Watts' clients after fully informed consent still have a right to opt out. The fully disclosed JPA agreement simply set up a mechanism for his clients who filed individual actions to do so after being fully informed of their rights."
Sygenta Case (August 2018)
Lawsuit alleging attorney Mikal Watts deceived farmers, badmouthed class actions sent to Syngenta MDL
By Kyla Asbury
KANSAS CITY, Kan.  – The Multidistrict Litigation Panel ordered that a lawsuit involving Texas attorney Mikal Watts and Syngenta will be transferred to the U.S. District Court for the District of Kansas.
The case was originally filed on April 24 in the U.S. District Court for the District of Minnesota. The Multidistrict Litigation Panel Chair Sarah S. Vance authored the transfer order, which was filed on Aug. 1.
The plaintiffs, including Kellogg Farms and Bromley Ranch, opposed the order to transfer because they believed their case should stay in Minnesota with the 60,000 state court cases filed by Watts and his firm Watts Guerra.
Vance wrote that Kansas is the appropriate forum for the suit because of its shared allegations with the Syngenta litigation.
The allegations in the Kellogg lawsuit are similar to objections made by approximately 9,000 plaintiffs in the MDL proceeding, wherein they alleged the treatment of individuals was unfair, the ruling states.
"Transfer places Kellogg before the transferee judge, and it may inform his overall assessment of the fairness of the settlement and any subsequent requests for attorneys' fees," Vance wrote.
The Multidistrict Litigation Panel also declined the plaintiffs' request for a stay of the transfer while they pursued a writ of mandamus.
The plaintiffs in the Kellogg complaint claimed farmers were deceptively solicited into signing a 40 percent contingency fee when they signed retainer contracts with Watts to pursue their lawsuits against Syngenta.
The farmers were also excluded from participating in lawsuits against Syngenta in the federal multidistrict court of Kansas or in the Fourth Judicial District Court in Minnesota without their knowledge, according to the Kellogg suit.
The plaintiffs claim the defendants' actions were fraudulent and dishonest.
Last year, a settlement was reached with Syngenta for $218 million, but, as of May, it has not been approved. Litigation against Syngenta began in 2014 when China refused corn shipments from the United States due to genetic modification of seeds.
Lawyer Douglas Nill has also sued Watts. He claims Watts misled Hennepin County Judge Laurie Miller, who presided over a class action for Minnesota farmers. He wrote that defendants told growers that mass tort individual suits were better than a class action because class actions recover only coupons for plaintiffs.
Nill attributes such a statement to former U.S. Rep. Bill Enyart, a Democrat from Belleville, Ill., quoting the Champaign News-Gazette about a meeting in Champaign, Ill. on Sept. 23, 2015.
The newspaper reported, "Additionally, the firm is filing suits in Minnesota, where Syngenta Seeds is located, as opposed to filing in a federal court…Enyart said the advantage to this was that instead of getting a discount for seed corn in the future, as in a class action case, there would be a gross settlement fee and the firm would simply send the farmer a check."
"The statement is misleading and a fraud of omission," Nill wrote.
Litigation started in 2014, after China refused American corn shipments.
Chinese officials declared they had not approved genetic modification of seeds that Syngenta sold under the names of Viptera and Duracade.
The U.S. Judicial Panel on Multidistrict Litigation consolidated federal suits and assigned them to Lungstrum.
Judge Signs Off on Fees in $1.5B Syngenta Corn Settlement
A federal judge in Kansas has largely signed off on a special master's recommendation on how to dole out $503 million in legal fees as part of a $1.5 billion settlement with Syngenta over genetically modified corn.
In a Dec. 31 order, U.S. District Judge John Lungstrum rejected arguments from Texas plaintiffs lawyer Mikal Watts, who has sought up to $150 million in fees. Watts was among more than a dozen lawyers who raised concerns at a hearing last month about the special master's report, which divvied up fees to about 400 law firms.
In an interview, Watts said he planned to appeal. A recent trend in "hybrid" multidistrict litigation proceedings — those that include both individual cases with contingency fee contracts and class actions — raise issues that the appellate courts will have to address, he said.
"This may well be the last hybrid case that corporate America can ever settle," he said. "People hired by private individual clients are not going to put their client into hybrid settlement deals where 88 percent of their fee is absconded by lawyers who the clients don't know."
Lungstrum agreed with the special master that the bulk of the fee award should go to common benefit fees, with nearly half the award going to lead plaintiffs lawyers in the multidistrict litigation, in Kansas, who "easily contributed the most to the class settlement." Smaller percentages of the fee award, he wrote, should go to lawyers in Minnesota state court and Illinois federal court who did work that benefited the class.
"The successful resolution of this litigation was most driven by the successes achieved in the Kansas MDL (including a favorable trial verdict and the specter of additional class trials to come) and the massive consolidated action in Minnesota; Illinois provided an additional front, but that front clearly ranked third in the pecking order," he wrote.
The settlement, approved in an order last month, resolved lawsuits alleging that Syngenta sold genetically modified corn seed that China refused to import, causing about 600,000 farmers and other producers to lose billions of dollars.
In her Nov. 21 report, the special master, Ellen Reisman of Reisman Karron Greene in Washington, D.C., recommended that 50 percent of the fees should go to 95 law firms in the multidistrict litigation in Kansas. Another 24 percent should go to lawyers with Minnesota cases, 16 percent to those in Illinois, and 10 percent to attorneys with individual clients.
The special master also had recommended capping contingency fees at 10 percent for a fourth group: lawyers with individual clients. Lungstrum supported that move but, in order to impose such a cap, concluded that he would have to raise the percentage of fees for that group from 10 percent to 12 percent, resulting in a corresponding reduction in common benefit fees. To accommodate the increase, Lungstrum reduced the common benefit pools: Kansas to 49 percent, Minnesota to 23.5 percent and Illinois to 15.5 percent.
At a Dec. 17 hearing, lawyers with individual clients raised concerns that the report failed to acknowledge the work they did.
A key voice in that camp was Watts, of Watts Guerra in San Antonio, who, along with 330 other firms, represented 57,000 farmers with individual contingency fee contracts. Reisman, in her report, shot down his initial request for $150 million in fees.
Watts objected to her report, but lead plaintiffs attorneys in Kansas estimated that Watts Guerra stood to earn $52 million, plus $12.8 million in expenses, under the report's allocation.
This week, Lungstrum rejected various arguments from Watts, who called his order "unprecedented."
He said Lungstrum should not have relied on a 2018 fee sharing agreement that excluded him and other lawyers with individual clients. And he challenged the 10 percent cap on contingency fees. But his primary concern was the judge's authority to regulate attorney fees governed by contingency fee contracts.
"There is no way in future torts that any lawyer is going to subject himself and his clients to a hybrid deal if this is the law of the land," he said.
Lungstrum, however, noted that attorneys with individual clients could submit requests by Jan. 18 for expenses or common benefit work, in addition to their contingency fees.
Lungstrum also approved $48.8 million in expenses and nearly $2.8 million in service awards to class representatives. U.S. District Judge David Herndon of the Southern District of Illinois and Minnesota Fourth Judicial District Judge Laurie Miller signed off on Lungstrum's order.
Mikal Watts, Democratic Fundraiser for Texas Sees Red…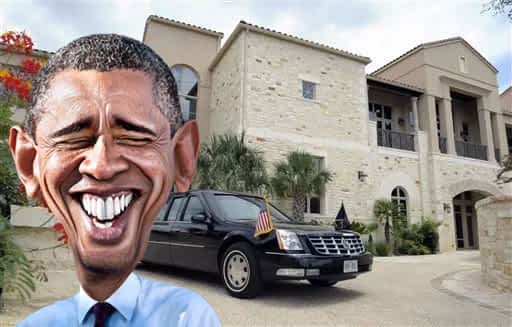 The limousine for President Barack Obama sits in the driveway of the home of Mikal Watts, a trial lawyer, in San Antonio, Texas, Tuesday, July 17, 2012. Obama, who is at the Watts' home, is spending the day fundraising in Texas. (AP Photo/Susan Walsh & DonkeyHotey)
Major Democratic Fundraiser Mikal Watts Indicted on Fraud Charges
"After years of waiting, I will now have my day in court."
A prominent Texas lawyer who has donated millions of dollars — and fundraised for even more — to major Democrats was indicted this week on fraud charges.  According to the San Antonio Express-News:
Mikal Watts, 45, was indicted by a federal grand jury in Mississippi on charges of making false claims and identity theft as he allegedly claimed to represent thousands of clients — some of whom are allegedly nonexistent or unaware that he was representing them — in litigation regarding the 2010 BP oil spill in the Gulf of Mexico.
The Express-News reported that Watts has denied the allegations and maintained that BP is the entity at fault as they have already pleaded guilty to 14 felonies which include environmental crimes and manslaughter. The petroleum company also pleaded guilty in cases regarding a pipeline spill in Alaska and an explosion at at Texas refinery that took the lives of 15 men.
"After years of waiting, I will now have my day in court," Watts said in the statement obtained by the News-Express. "I look forward to a speedy trial and the opportunity to prove to a jury that I am not guilty of any crimes. I have spent my professional life working hard to protect the rights of those victimized by corporations like BP. When this trial is over, I look forward to getting back on the job, and to working for years to come."
According to the New York Times, Watts filed 648 individual claims under a program set up by BP that was to compensate seafood industry workers. Out of those claims Watts filed, nearly all of them were denied.
Then, the New York Times reported, Watts filed almost 44,000 claims under an additional program. Of those claims, 40 percent used social security numbers that belonged to someone other than the claimant and 5 percent used social security numbers belonging to people who are deceased.
BP sued Watts in 2013 and alleged that his "brazen fraud" had inflated the amount of money set aside for the program meant to compensate seafood industry workers, according to the New York Times. That lawsuit is still pending.
The News-Express reported that the U.S. Attorney's Office in Jackson, Mississippi would not confirm the indictment but lawyers for Watts and his brother did confirm the indictment which also names his brother, David. Both brothers are expected to make their appearance in court next week or early November in Mississippi.
"In contrast to BP's felonious conduct, the evidence will show Mr. Watts did not do the things of which he's accused," Rob McDuff, Mikal Watts' attorney, said in a statement Wednesday.
According to FEC records analyzed by the Washington Examiner, Watts has donated around $2.3 million to Democratic candidates and causes over the past several years. Watts is also a major fundraiser for President Barack Obama as he has given him almost $90,000 and bundled at least $500,000 for him as he's hosted multiple fundraisers at his San Antonio home for the president.
In another piece that referred to Watts as a "political sugar daddy," the Express-News reported that legal woes aren't new for Watts as Secret Service had raided two of his offices in 2013 around the same time he hosted a pro-Hillary Clinton political action committee fundraiser. As the newspaper reported, Watts remained calm as he hosted the fundraiser despite the threat of a federal investigation looming over his head.
According to the Associated Press, Watts was on the steering committee of lawyers who negotiated the multibillion dollar settlement with BP in 2012 — a committee set to rack up more than $1 billion in payments. Watts resigned from the committee last year in light of the federal investigations.
Mikal Watts' fraud and identity theft indictment unsealed; A Dog was among plaintiffs in BP oil spill litigation (Nov. 2015)
GULFPORT, Miss. – David Watts smelled fraud in 41,000 oil spill claims that brother Mikal Watts filed against BP, and so did BP's claims director and Louisiana attorney regulators, but Mikal Watts turned those claims into $2.3 billion. He might not have worked so hard to preserve the illusion of representation if he had known it would result in indictments for him, brother David, and five others.
Grand jurors in federal court at Gulfport charged them with fraud and identity theft on Sept. 15, through indictments that remained under seal until Oct. 29.
The indictment follows a familiar movie plot, with the star and his team pulling off the grandest theft only to face justice at the end. Prior to September, justice had treated Mikal Watts generously. In a system that rewards aggregation of claims, no one aggregated like the lawyer from San Antonio, Texas.
Adversaries and associates accorded him high status in negotiations, and judges routinely appointed him to committees leading mass actions. U.S. District Judge Carl Barbier picked him for the plaintiff steering committee against BP, and would keep him there until a criminal investigation started. The indictment shows that after the Deepwater Horizon rig exploded in the Gulf of Mexico, he immediately started planning litigation on behalf of seafood crews.
Two attorneys offered to buy pieces of his litigation, one for himself and one for a Texas businessman. They would provide more than $10 million over the next few months. The indictment doesn't identify the attorneys or the Texan.
Watts apparently figured he could safely claim to represent 41,000 clients because he had raised enough money to find that many. He hired Greg Warren of Lafayette, La., to lead the hunt for clients.
Warren, now a defendant with Watts, hurried out and bought a BMW 328i and a BMW X3 sport utility vehicle, according to the indictment. The next day, he signed a lease for two years on an office in Biloxi, Miss.
The indictment charges Wynter Lee, mass torts coordinator for Watts, as a party to the fraud, along with business owner Hector Guerra of Weslaco, Texas. It also charges Thi Houng Le of Pascagoula, Miss., also known as Kristy Le, and her sister in law, Thi Hoang Nguyen, also known as Abbie Nguyen.
It paints David Watts as a brother sensing danger but going along with the plan. He worked for Mikal as director of mass torts, though not a lawyer.
The indictment alleges that on Aug. 24, 2010, David sent email to his brother and Guerra stating that 2,477 dates of birth had changed in 2,510 records. "This does not pass the smell test," David Watts wrote, with 11 question marks.
Mikal Watts applied for the plaintiff steering committee three days later, stating that he currently represented over 40,000 plaintiffs.
On Oct. 8, 2010, Barbier appointed him to the committee. On Oct. 11, David notified Guerra and Kristy Le that he found five dead plaintiffs among the names they provided. On Nov. 10, according to the indictment, "KF" of the Gulf Coast Claims Commission asked Mikal to confirm his representation of each client.
The initials fit Kenneth Feinberg, who ran the claims process for BP as he had previously done for the World Trade Center attack.
According to the indictment, KF wrote, "We have received notification from claimants, and from the Department of Justice hotline, concerning complaints of unauthorized use of their social security numbers."
On Nov. 18, according to the indictment, Lee sent 22,533 plaintiff fact sheets to a law firm in Chicago.  The indictment doesn't identify the firm or explain its connection.
One fact sheet identified Lucy Lu as a deckhand on a fishing boat, but grand jurors found Lucy Lu was a dog.
Lee allegedly filed fact sheets for the five dead plaintiffs that David Watts found.
On New Year's Eve, according to the indictment, Warren bought an Audi Q7 sport utility vehicle for $69,212. On Jan. 6, 2011, according to the indictment, David Watts warned the group and the lawyers who bought into the action that he didn't trust the social security numbers or the birth dates.
He wrote that there was a problem with the process and lots of duplicates. On that date, according to the indictment, Lee sent 17,469 fact sheets to the Chicago firm. On Jan. 21, 2011, according to the indictment, one of the lawyers with a piece of the action wrote that, "40k clients are ghosts in the wind."
He allegedly wrote, "No amount of $$ will bring them back and time is an enemy."
He allegedly wrote, "Mikal, you know I say this with love in my heart so hear me on this, this is either a super plan for a billion dollar success that I just don't see, even when I try to read between the lines of JC's emails, or if I just read what is written in JC's emails, and add my own gut feeling, it is a 'king has no clothes' cluster f— that needs to be dealt with openly, quickly, and effectively."
The indictment doesn't identify JC.
On the same date the other lawyer allegedly wrote that they had bad phone numbers and street addresses, names from phone books, duplicates, and plaintiffs claiming they were duped into signing fees.
On Jan. 31, 2011, Warren bought another Audi Q7. On March 8, 2011, Lee replied to email about dead clients by writing, "Another fine example of the sh—we paid for; dead 5 years ago." On July 29, 2011, according to the indictment, Watts falsely told the Louisiana Attorneys Disciplinary Board that letters he sent were status letters to clients with written engagement agreements.
On Sept. 2, 2011, according to the indictment, he falsely told the board a lawyer referred two individuals to him when Warren and the others had done it. On March 2, 2012, he announced a settlement to David Watts, the two attorneys, and the Texas businessman.
According to the indictment, he wrote, "Importantly, BP pays the $2.3 whether the proof supports it or not." He allegedly wrote, "Hope this makes everyone feel better about our eggshell plaintiff docket. To quote Monty Python, 'it's merely a flesh wound; I'm not dead yet.' Mikal." In 2013, after federal agents seized his computers, BP sued him.
Barbier stayed the suit pending resolution of the criminal investigation. The stay remains in force.
Mikal Watts Faced a Criminal Indictment in Texas over the BP Oil Spill Disaster, in Which He Ultimately Prevailed
Speaking at a San Antonio Trial Lawyers Association luncheon earlier this month, high-powered attorney Mikal Watts recounted the federal raid at his law firm in 2013, his subsequent indictment, trial and exoneration on charges that he made up fake clients to sue BP over the 2010 Deepwater Horizon oil disaster.
A large screen off to Watts' right trumpeted the title of his presentation, "Skinned Alive: An innocent man's persecution by the U.S. Department of Justice." Watts contends the charges against him, his brother David and a paralegal were politically motivated.
The Democratic mega-donor most notably hosted a $38,800-a-plate fundraiser in 2012 at his Dominion estate for President Barack Obama.
Watts is a highly successful local trial lawyer whose firm has won more than a combined $4 billion in settlements and jury verdicts against some major corporations, including Ford Motor Co. and the Firestone Tire and Rubber Co. over the Explorer SUV rollovers. He said he's convinced he was put through his own criminal case "so that I would be prepared to counsel my friend."
That friend is state Sen. Carlos Uresti, who in May was indicted on fraud- and conspiracy-related charges in two separate cases. A federal judge recently ruled that Watts can't represent Uresti in one of the cases because he has a conflict, but Watts intends to challenge the ruling.
In February 2018, Uresti was found guilty of 11 federal felony charges relating to his alleged involvement in a Ponzi scheme that defrauded investors out of hundreds of thousands of dollars. On June 18, 2018, he announced his resignation from the Texas State Senate, effective June 21, 2018. On June 26, 2018, Uresti was sentenced to 12 years in federal prison. He surrendered to the U.S. Marshalls on February 19, 2019.
Watts, a partner in the firm Watts Guerra who turned 50 last Monday, sat down with the San Antonio Express-News before he spoke to the lawyers' group.