LIT COMMENTARY
This is an interesting situation as LIT advocates transparency in these types of cases and Roane should not benefit from sealing of records or secrecy. The appeals court agrees, however, the courts, judges and lawyers are regularly allowed to keep their matters secret and sealed from the public in matters of sexual harassment or stealing clients funds. That needs to stop. All these cases, whether in a trial setting or a disciplinary arena like the State Bar of Texas and BODA, the records should be public and without restriction, except for basic redaction of private information.
What's also quite alarming is Sloane is now superintendent in another school.
Court rejects Roane's request for secrecy
Court of appeals upholds AG's ruling that documents must be released
Originally Published; Feb 2, 2020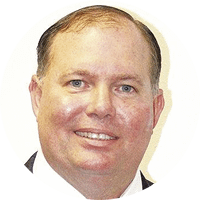 A former Seguin ISD superintendent looking to keep the details of a sexual harassment case against him private has suffered another legal loss.
Texas' Fourteenth Court of Appeals on Tuesday supported a trial court's decision which ruled the information about Stetson Roane had to be publicly released. The opinion was authored by Justice Zimmerer.
That decision came after Roane appealed Texas Attorney General Ken Paxton's ruling that the information should be available to the public.
The appeal stemmed from a sexual harassment case in which an SISD employee made a complaint against Roane alleging inappropriate behavior while they were out of town at a conference. In January 2017 the Seguin Gazette submitted an open records request for the complaint and other documents.
Seguin ISD sent the request to the state attorney general's office for guidance on what information could be released, claiming the information could be damaging and is not of public concern. The AG ruled that the information should be released with some identifying information redacted.
Roane filed a lawsuit, lost in court and appealed the ruling. The appeals court on Jan. 28 shot down Roane's contention that the trial court erred.
 "Matters of workplace harassment, discrimination, and policy violations in governmental body are, by their very nature, generally not a 'person's private affairs,'" the ruling reads. "We overrule Roane's issues on appeal."
Roane has up to 45 days to appeal the case to the Texas Supreme Court, said Christopher Schulz, of the San Antonio-based firm Schulman, Lopez, Hoffer & Adelstein, LLP, who represents Seguin ISD.
One of Roane's attorneys, David Campbell of O'Hanlon, Demerath, & Castillo, Attorneys at Law, said they had only recently taken him on as a client and were not yet up to speed enough to comment on the issues.
"We just filed a notice of appearance on the case but are looking at whether there are some issues in the case the court of appeals needs to reconsider or in addition to that whether or not there's some issues we need to raise at the Texas Supreme Court," Campbell said.
The school district has not actively participated in the case, though named in the lawsuit, Schulz said. The district is poised to comply with the final rulings once the case has been exhausted, he said.
Schulz said there's a slim chance that the Texas Supreme Court will hear Roane's case.
"Based on the fact that new legal counsel is involved we anticipate Mr. Roane will in fact file an appeal to the Texas Supreme Court," he said. "The Texas Supreme Court only hears about 10% of the cases that are appealed, simply rejecting the other 90%. Based on the numbers, it is highly unlikely the Texas Supreme Court will agree to hear this case."
Following an investigation into the harassment complaint, the school board accepted Stetson Roane's resignation in February 2017.
As part of an agreement, Seguin ISD paid Roane $94,500 minus any required deductions as part of his resignation. The district also put his wife Denise Graves-Roane on paid administrative leave from March 6, 2017, through the end of that school year.
Graves-Roane earned about $120,000 a year as the executive director of federal programs and school improvement. She resigned June 30, 2017.
Roane is now superintendent at Raymondville ISD. A message left at his office Friday afternoon was not immediately returned.