Although Texas Federal Judge Jerry Smith Opposes the Current Plan, Clerkships Never Get Old
Favoring more experienced applications fosters more information gathering and a better process.
Feb 20, 2020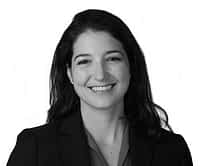 Jennifer Fischell
Jennifer Fischell's practice focuses on complex civil litigation and appellate litigation.  She has represented clients—including plaintiffs and defendants, executives, boards of directors, and corporate entities—before federal courts at all levels, including the U.S. Supreme Court, as well as in administrative and arbitral proceedings.
Prior to joining MoloLamken LLP, Ms. Fischell clerked for the Honorable Raymond Kethledge of the United States Court of Appeals for the Sixth Circuit and for the Honorable Ronnie Abrams of the United States District Court for the Southern District of New York.  She also worked as a part-time summer law clerk for the Office of the General Counsel at the University of Michigan and as a research assistant for the Law Library and several members of the faculty at Michigan Law School.
Previously, she worked as a summer associate at Simpson Thacher & Bartlett LLP, where she worked on corporate transactions and litigation.
Representative Matters
A major biopharmaceutical company in support of its petition for certiorari to the United States Supreme Court
Foreign and domestic respondents in an International Trade Commission investigation into alleged patent infringement
Putative class of purchasers of medical products in an antitrust suit against medical-device manufacturer and distributors on appeal before the Seventh Circuit
Software and technology company in a patent appeal before the Federal Circuit
Energy-regulator defendant in lawsuit for breach of contract, negligent misrepresentation, and unjust enrichment
Corporate claimants in a contract dispute proceeding in international arbitration
A fraud victim, both as a witness in criminal proceedings and in conjunction with civil claims
Major pension fund and putative class of investors in a securities-fraud suit against an oil and gas company on appeal before the Fifth Circuit
A municipality and its employees in support of their petition for certiorari to the United States Supreme Court
Publications
Note, Standing in the Way of the FTAIA: Exceptional Applications of Illinois Brick, 114 Mich. L. Rev. 309 (2015)
New York
430 Park Avenue
New York, NY 10022
vCard
LinkedIn 
Clerkships
Law clerk to the Honorable Raymond Kethledge of the United
States Court of Appeals for the Sixth Circuit
Law clerk to the Honorable Ronnie Abrams of the United States
District Court for the Southern District of New York
Education
University of Michigan Law School, J.D., summa cum laude
Order of the Coif
Articles Editor, Michigan Law Review
Henry M. Bates Memorial Scholarship Award
Class of 1908 Memorial Scholarship Award
Clarence Darrow Scholar
Finalist, Campbell Moot Court Competition
Cornell University, B.A., summa cum laude
Phi Beta Kappa
Bar and Court Admissions
New York
New Jersey
United States District Court for the Southern District of New York
United States District Court for the Eastern District of New York
United States District Court for the District of New Jersey
United States Court of Appeals for the 2nd, 3rd, 5th, 7th, and Federal Circuits
When I first considered applying for a federal clerkship, the only information I had was a recent graduate's pitch: "Every former clerk I've spoken to has said clerking was the best job they ever had."
Most people I know who clerked would agree. (But we also know that's not always the case, as recent news and congressional hearings on sexual harassment in the judiciary show.) Nonetheless, clerking should be, and usually is, a wonderful experience.
It can also be a key credential, opening doors to prestigious litigation boutiques and government positions that focus hiring efforts on former clerks.
So the question isn't "why clerk?" but "when?'' And when should hopefuls apply?
For interested third-year law students and law-school graduates, the answer is right now. Federal judges across the country are now in year two of the most recent nationwide attempt at a "Federal Law Clerk Hiring Plan."
The current plan restricts participating judges' review of applications from first- and second-year law students. For clerkship terms starting in 2021 and beyond, no current 2L may apply to judges participating in the plan until June 15, 2020, and 1Ls may not apply at all.
No such restrictions apply to 3Ls, recent graduates, and practicing attorneys. Those applicants thus have a valuable first-mover advantage, particularly given that judges are hiring for terms farther into the future.
For example, according to OSCAR (the online federal-clerkship application system), Judge Judith Rogers of the U.S. Court of Appeals for the D.C. Circuit is currently accepting applications for 2021 through 2024.
At least 350 federal judges are hiring for 2021 and 65 for 2022. For judges abiding by the plan, only 3Ls or law school graduates may apply to those clerkships today; 2Ls must wait until June. In the uber-competitive world of clerkships, even a few months' head start can be significant.
That advantage, however, might not be long for this world. The last nationwide hiring plan was abandoned six years ago due to increases in judge opt-outs and law school deans' skepticism. After June 2020, participating judges will reconsider their participation in the current plan, and there are signs that the previous plan's downward spiral might already be repeating itself.
Some jurists, like Judge Jerry Smith of the U.S. Court of Appeals for the Fifth Circuit, have opposed the current plan.
Last week, he updated his hiring practices, declaring that he accepts "applications only from current first-year students," and does "not follow any law clerk hiring plan" because the "current, totally voluntary plan has pretty much crashed and burned for unworkability and lack of interest."
Other judges have continued to support the plan. In a recent interview, Judge Merrick Garland of the U.S. Court of Appeals for the D.C. Circuit reiterated his view that the hiring plan is in the best interest of students, law schools and judges alike.
At least 11 law school deans wrote a letter in January expressing that same sentiment, imploring judges to follow the plan. Other deans, however, are not so sure.
Whether lauding the plan or critiquing it, neither judges nor deans have noted the first-mover advantage that experienced applicants have under the plan. Critics might label it a drawback because it hurts law students' chances. But the advantage to experienced applicants reveals, rather than undermines, the hiring plan's benefits for all involved.
The earlier the hiring process occurs, the less information judges and students have about each other and clerking. Students who do poorly on first-semester exams but succeed thereafter might be ruled out before they've shown their promise. Similarly, giving current 1Ls and 2Ls more time to decide what they want from their careers can only benefit them. It allows them to focus on their studies; to prove their merit over four semesters instead of one or two; and to take the time they need to decide what they want to do and where they want to go. Those benefits assist judges as well, increasing the size and diversity of the pool of qualified applicants.
First-generation law students are particularly disadvantaged by early hiring. They might not even find out what a clerkship is until well into law school. As the first attorney in my family, I did not even consider the possibility of clerking until a chance encounter with a recent graduate after my 1L year made me think about it. At that point, I still thought I wanted to practice transactional law.
I had conversation after conversation with mentors: "Can I clerk and still go work in mergers and acquisitions?" A multiyear clerkship frolic seemed unwise. I applied anyway. With no hiring plan, time was of the essence. Thankfully, I later discovered I love litigation—not deal data rooms—so taking that risk paid off. If I had not had such terrific support, however, I never would have taken the risk at all.
In the clerkship application process, more information is good. And favoring more experienced applications fosters information gathering. Ultimately, 1L and 2L applicants' time will come. If the hiring plan remains in place, they will eventually have the same competitive advantage that 3Ls and graduates enjoy today. But if the hiring plan goes away, so too does that advantage—and many others—for everyone. Although it may be too early for some, it is not too late to apply to clerk. For many, now is the time.
Jennifer Fischell is an associate at Molo Lamken who focuses her practice on complex civil litigation and appeals. Before joining the firm, she clerked on the U.S. Court of Appeals for the Sixth Circuit and U.S. District Court for the Southern District of New York.