LIT COMMENTARY
When the D.C. Bar's Becky Neal sends you a turkey that's filled with the perfect stuffing;
Respondent allowed Judge Bartnoff to proceed with a misimpression, rather than correct it. We are satisfied that there was substantial evidence to support the Board's finding that Respondent's failure to correct Judge Bartnoff's misimpression was an intentional act of dishonesty or fraud. See In re Shorter,570 A.2d at 767 n. 12 ("[f]raud is a generic term which embraces all the multifarious means … resorted to by one individual to gain an advantage over another by false suggestions or by suppression of the truth ") (emphasis added) (quotation marks and citation omitted).  In re Samad, 51 A.3d 486, 499 (D.C. 2012)
"We are also satisfied that Respondent's failure to correct Judge Bartnoff amounted to a "false material statement." See Comment 2 to Rule 3.3(a)(1) ("There may be circumstances where failure to make a disclosure is the equivalent of an affirmative misrepresentation.")." In re Samad, 51 A.3d 486, 499 n.8 (D.C. 2012).
This letter is in response to the complaint filed against liar lawyer Sabrina Rose-Smith or Rose Smith of Goodwin Law, counsel for Ocwen in the case CFPB v Ocwen, et al. The complaint was dismissed and the Burkes replied on August 4th, 2020. Practically 4 months later, they see fit to provide this cursory reply to the Burkes. This is still unacceptable.
Associate / Assistant Attorney
Washington D.C. Metro Area
Office of Disciplinary Counsel
About
Energetic and resourceful attorney with over 20 years of litigation experience in the prosecution of legal ethics cases in administrative disciplinary hearings…
and the representation of indigent criminal defendants in state and municipal courts.
Committed to comprehensive, detail-oriented factual investigations and legal analysis.
Excellent writing and verbal communication skills and proven ability to present compelling, persuasive written and oral arguments. Known for dedicated work ethic and the ability to quickly master different practice areas, legal systems, and applicable rules and procedures.
Experience
Office of Disciplinary Counsel
Senior Disciplinary Counsel
2006 – Present 14 years
Washington, D.C.
Investigate and prosecute attorneys accused of violating the District of Columbia Rules of Professional Conduct, including responding to complaints and inquiries from the public, attorneys, and judges.
Collect, review, and organize documents and data, including financial records, court files and transcripts, insurance records, and attorney client files, and prepare exhibits.
Research, analyze, interpret, and apply case law, statutes, court rules, and regulations in a wide range of…practice areas, such as employment law, immigration, intellectual property, criminal, probate, real estate, personal injury, family law, landlord-tenant, and federal bankruptcy matters.
Draft and prepare formal complaints, motions, proposed findings of fact with comprehensive legal analysis, letters of informal admonition, and other legal documents, as well as confidential memoranda of law, and diversion agreements.
Negotiate dispositions, stipulations of facts, and rule violations to resolve open investigations.
Litigate complex matters in adversarial proceedings before the administrative fact-finding committee, and on appeal before the appellate Board on Professional Responsibility and the District of Columbia Court of Appeals.
SELECTED D.C. DISCIPLINARY CASES
The following disciplinary cases are representative of matters that I have investigated and prosecuted.
In re Gilbert Baber, 106 A.3d 1072 (D.C. 2015); Probate law – attorney disbarred.
In re Lily Mazahery, 85 A.3d 101 (D.C. 2014); Immigration law – attorney disbarred.
In re Richard Samad, 51 A.3d 486 (D.C. 2012); Criminal law – attorney suspended for three years with the requirement that he prove fitness to practice before reinstatement.
In re Clarissa Thomas-Edwards, 967 A.2d 178 (D.C. 2009); Trust account violations – attorney received a public censure.
In re Deni-Antoinette Mazingo-Mayronne, Bar Docket Nos. 2007-D466; Bankruptcy law – decision pending (hearing held in June 2015).
Latham & Watkins
Conflicts Specialist
2004 – 20062 years
Washington, D.C.
Researched and identified potential conflicts of interest and legal ethics issues related to client matters in transactional, litigation, corporate, and regulatory subject areas.
Analyzed and distilled data into a summary report of key facts and issues for partner review.
Inner Quest, Inc.
Program Director
Inner Quest, Inc.
2002 – 2004  – 2 years
Purcellville, VA
Supervised staff instructors, conducted staff training, and led corporate and school groups in teamwork/team-building activities on challenge courses, and in outdoor activities, including backpacking, kayaking, canoeing, rock climbing, and caving.
Washington State Bar Association
Ethics Disciplinary Counsel
2000 – 2002 – 2 years
Seattle, WA
Investigated and prosecuted lawyers accused of violating the Washington State Rules of Professional Conduct, and recommended dispositions of ethical complaints.
Deposed witnesses and collected evidence in cases spanning a diverse range of subject matter areas.
Presented complex cases with multiple witnesses and extensive documentary evidence in administrative proceedings. (See In re Diane L. Vanderbeek, 153 Wash.2d 64 (Wash. 2004)).
Drafted and filed legal documents…
Seattle-King County Public Defender Association
Staff Attorney
Seattle-King County Public Defender Association
1990 – 200010 years
Seattle, WA
Represented indigent criminal defendants as lead or sole counsel in over 100 misdemeanor and felony trials in municipal and state court. (See State of Washington v. Patricia Buss, 76 Wash.App. 780 (Wash. 1995)).
Conducted investigations, including interviewing witnesses, visiting crime scenes, and reviewing scientific reports.
Advised clients regarding plea negotiations, federal constitutional rights, and potential legal or factual issues.
Education
Seattle University School of Law
Doctor of Law (J.D.)
Activities and Societies: Moot Court
Franklin & Marshall College
Bachelor of Arts (B.A.)
Organizations
Colorado Bar Association
Feb 2016 – Present
District of Columbia Bar
Nov 1996 – Present
Washington State Bar
Nov 1990 – Present
Groups
Colorado Bar Association
Categories:
Rector's Corner
INTRODUCING BECKY NEAL AS NOMINEE FOR JUNIOR WARDEN
Dear St. John's,
Last month, at both the Candidates Forum and the Annual Parish Meeting, we informed you of our continued efforts to identify the next junior warden.
To allow additional time for this important search, former Senior Warden Roxy Wolfe, graciously agreed to run for election for this position at the Annual Parish Meeting, with the understanding that once the right person was found, she would tender her resignation, which would create a vacancy that, in accordance with our parish bylaws, may be filled by the Vestry's appointment of a successor junior warden who will serve for the remainder of the one-year term.
We and the Vestry of St. John's are excited to announce that parishioner Becky Neal has graciously accepted our invitation to become the next junior warden, and will be appointed to replace Roxy Wolfe at our upcoming vestry meeting on May 21st.
The following bio will introduce you to Becky, and give you a sense of how blessed we are to have her serve in this leadership position at St. John's.   Grace and Peace, Sari Ateek and John Stewart, Senior Warden    _______________________________________________________________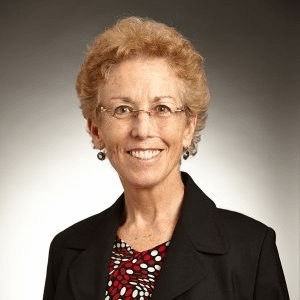 I have been a member of St. John's for eight years. When I came to my first service in mid-September 2011, I had not been to church since I was a child.
I was looking for spiritual support and guidance during some personal upheaval and I kept thinking that perhaps going to church might help.
I live three blocks from St. John's, and had passed the "come as you are" sign lots of times.
I finally realized that if I wasn't willing to try a service that was only a few blocks away from my house and one that I could wear jeans to – then I never would. So I attended the 5 pm service, heard Sari preach, and kept coming back. I found more comfort, community, and joy than I could have imagined.
That first year, I was part of the spiritual practices group headed by the associate rector. We offered a weekly book discussion that focused on disciplines and practices that support our faith.
We also offered a weekly Centering Prayer opportunity and inaugurated the first women's retreat, which has continued over the years. My second year at St. John's, I joined the handbell choir.
I had not played an instrument as an adult and yet here I was, ringing with the handbell choir! It challenged me mentally – learning to read music and ring a bell on time – and it has brought me great joy to play music with others and for others.
Within the first couple of years, I joined the vestry. I had a steep learning curve that first year. I was impressed by the dedication, talent, and thoughtfulness of the vestry members and the heartfelt leadership of the junior and senior wardens.
I will echo Johnna's sentiments in her comments at the parish meeting – I was enriched by my time on the vestry with new friendships, personal development working through difficult issues amidst conflict, learning to listen more carefully to others, and seeing collaborative decision-making at work.
I have also served on two committees. I was a member of the personnel committee for a couple of years where I gained insight into the importance of approaching employment concerns in the context of a spiritual community.
At times we wrestled to identify the best path forward, recognizing the obligations to treat staff fairly as members of our family and maintain faithful stewardship of parish resources. I also helped lead the St. John's Vision Process from its inception through its conclusion.
Through this process, I gained a greater understanding of St. John's community historically, from its original formation through the years as it developed into its current strengths and interests.
During the day, I am an attorney at the D.C. Bar where I investigate and prosecute unethical attorneys. I have been committed to serving the public my entire legal career.
I first served as a public defender in Seattle, Washington and have been in my current job for the past 12 years. I am passionate about my work, and I bring the same commitment to fair and transparent process to my service to St. John's as well as my heart-felt desire to follow Christ's demonstration of love and leadership in community.
In the past couple of years, I have been struck by St. John's resilience as it weathered the transition of changing three key staff members within a short time.
I am excited by the enthusiasm for outreach and internal development and the new initiatives and programs that have begun. I am delighted to be part of the continued unfolding of God's work and to be of service as part of the vestry.