LIT COMMENTARY
We'll be writing an in-depth article on the laundry list of judges in recent times who have 'escaped' discipline and get to keep their pensions and salaries due to the judicial 'cover-ups' that are only usurped by the Epstein case. In the meantime, we wish Jane Doe and her legal team good luck in trying to get this case to a jury, as Texas will protect their own…
Judge Earl Leroy Yeakel III (W.D. Texas)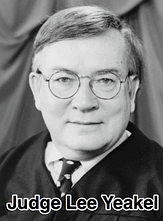 Ex-Burleson County judge sued for allegedly raping former clerk
By Keri Blakinger Updated 4:25 pm CST, Sunday, December 1, 2019
An ex-clerk in Central Texas last week sued a former county judge, accusing him of repeatedly raping her in his Burleson County office and at his Caldwell cafe, the Funky Junky.
Identified only as Jane Doe in the 12-page legal filing, the unnamed accuser was working at the Burleson County Attorney's Office in late 2017 when she says then-County Judge Mike Sutherland lured her to his eatery and sexually assaulted her, the first act in a pattern of violence that she alleges continued for two months.
Earlier this year, Sutherland agreed to step down after the State Commission on Judicial Conduct started fielded allegations he'd sexually harassed or had a relationship with a county employee.
"He was kind of notorious in the county," said Houston-based attorney U.A. Lewis, who is representing the now-28-year-old plaintiff. "He used his position to harass individuals."
Sutherland did not respond to the Houston Chronicle's request for comment, but has denied the allegations both to the state commission and in interviews with local TV stations.
The lawsuit filed Wednesday in Burleson County will seek at least $1 million, Lewis said.
The filing details allegations dating back to April 2017, when Doe began working at the county attorney's office in Caldwell, a small town about 20 miles southwest of College Station. Sutherland, who was "charismatic and intelligent," would sometimes stop by the office and make inappropriate comments or "flirt with the attractive women employees," the suit alleges.
One day that November, Sutherland allegedly invited Doe to the Funky Junky, at a time the eatery would be closed – though the woman didn't know that when she agreed to go.
"Once she realized that she was misled by Sutherland, she attempted to leave," the suit alleges. "Sutherland aggressively grabbed Doe, groping her body and pulling her into the kitchen area." There, the woman alleged, Sutherland overpowered and sexually assaulted her, leaving her "paralyzed with confusion and fear."
Afterward, she didn't report the alleged assault because she was afraid people would doubt her claims about a "hometown hero and family man."
Instead, she told only her husband and a close friend.
"If she would have reported Sutherland, she would face public humiliation and ridicule by the community," the suit alleges, "as well as risk losing her career that she worked hard to get and financial stability to support her own family through Sutherland's ability to retaliate against her because of his position in this small town."
That same month, the suit claims Sutherland called Doe into his county office and pressured her into drinking cinnamon whiskey, then allegedly ripped her clothes off and performed oral sex on her before raping her on the conference table.
Afterward, Sutherland "repeatedly" sexually assaulted her until she lashed out at him in January 2018, the suit alleges.
Not long after that, Doe was fired for asking a different judge a legal question, according to her attorney.
Though the county apparently flagged that as a policy violation, Doe's lawsuit alleges her termination was "based upon lies and policies directed at her and her alone since there is no support to show that a single person other than Doe has been fired for asking for legal advice."
Before his abrupt resignation in June, Sutherland served five terms in office, according to local media reports.
As part of his agreement with the state commission, oversight officials will not seek further disciplinary sanctions and he will be permanently disqualified from serving as an elected or appointed judge in Texas.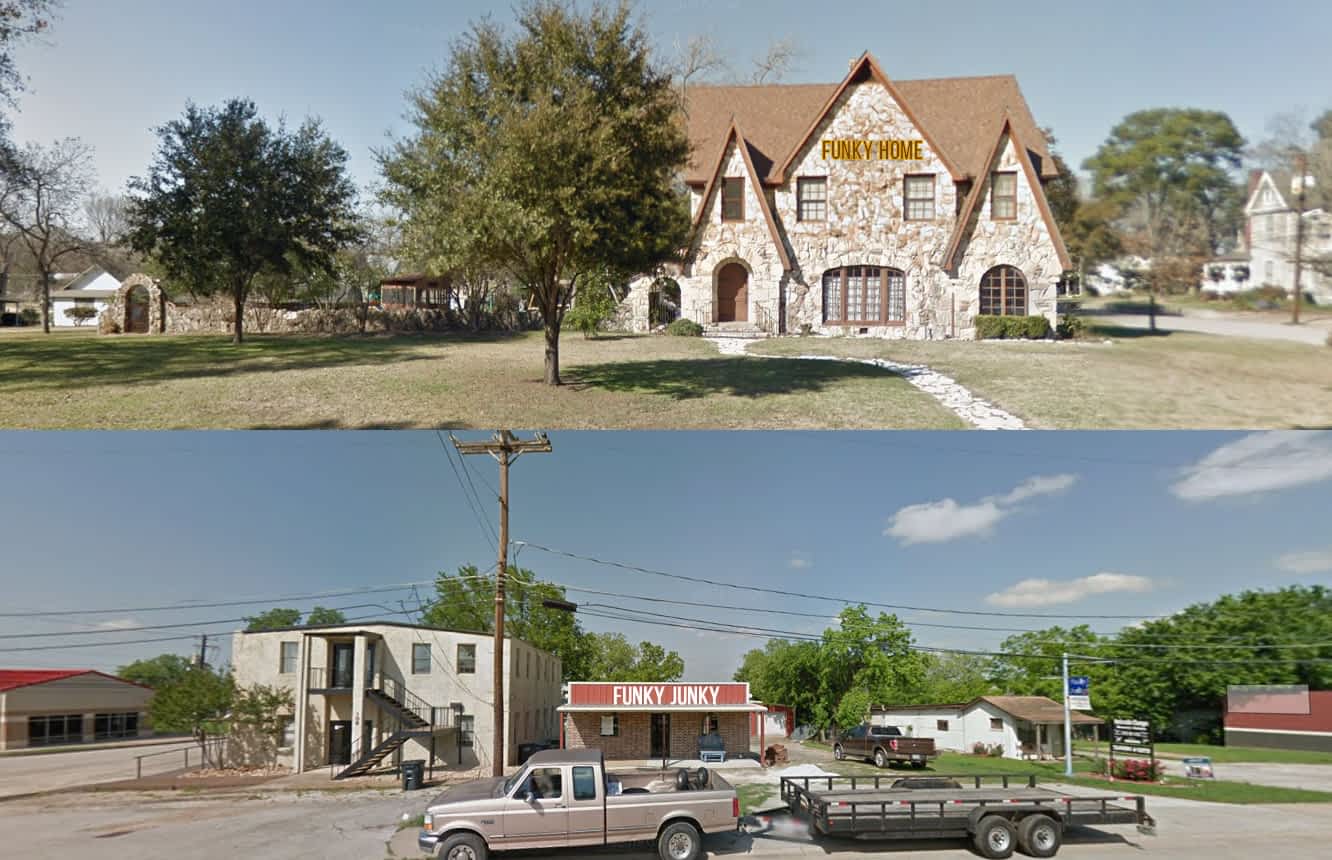 Michael Sutherland assets that could have liens attached if he loses the lawsuit:
Residence: 500 W Buck Street, Caldwell, Texas 77836-1710
Business: Funky Junky, 106 N Main St, Caldwell, TX 77836
Prior Judicial Action Against Sutherland
JUDICIAL ACTIONS – To read the entire public sanctions, go to scjc.texas.gov.

On June 6, 2019, the State Commission on Judicial Conduct accepted a voluntary agreement to resign from judicial office in lieu of disciplinary action regarding Mike Sutherland, county judge, Caldwell, Burleson County.
CALDWELL, Tex. (KBTX) – Former Burleson County Judge Mike Sutherland has been accused of inappropriate conduct, according to state records obtained by KBTX
Sutherland agreed to resign from his position on Sunday, June 16, as part of a voluntary agreement he signed earlier this month with the State Commission on Judicial Conduct.
According to the report, the action comes after the commission received two complaints against Sutherland alleging that he "sexually harassed a woman and/or engaged in a sexual relationship with a woman employed by Burleson County."
The voluntary agreement did not detail the allegations but said, "no Findings of Fact or Conclusions of Law have been made."
Click here to see the full voluntary agreement document.
The agreement says in exchange for Sutherland stepping down from his position as county judge, the commission would no longer seek disciplinary action on the matter. It also states Sutherland is forever disqualified from any kind of judicial service in Texas, including the performance of wedding ceremonies.
Sutherland continues to deny any wrongdoing and last week told News 3's Clay Falls that he wanted to retire and believed it was the best time to step down.
DPS confirms there is no criminal investigation into the matter. KBTX has reached out to the Burleson County Sheriff's Office and Caldwell Police Department to see if there is an ongoing investigation, but we haven't heard back from those two agencies.
Sutherland began serving as Burleson County judge in 2003.
County Commissioners held a meeting Monday to address the judge's resignation and how to choose his successor. Applications are being accepted on Monday and Tuesday for anyone interested in the position. The deadline to file is noon Tuesday, and the county hopes to have someone appointed by the end of the week.
"We want it on writing and it doesn't have to be a résumé just as long as it's a written statement stating your name and sign it and everything goes through the treasurer's office," said David Hildebrand, who is the Burleson County Judge Pro-Tem and Commissioner for Precinct 3.
He said they'll interview applicants starting Tuesday. "We're going to set up five-minute meetings with each one of the candidates," he said. "We'll take in all the applications. Then we're going to go back into recess Wednesday at 1 and the Commissioners will discuss the applicants that we interviewed Tuesday. Then we'll see what happens there and then if we have to have another meeting. We'll have to post one for Friday," Hildebrand added.
Residents like Richard Thompson wonder who the next county judge will be.
"Well I know it's going to be quite a transition but I'm certain that all the people here will look real hard to find somebody to replace him," said Thompson.
News 3 asked Hildebrand about the judge's departure.
"The judge is going to be missed greatly. He did a lot for this county, I will say that. And he's a good friend and I hated to see him go," said Hildebrand. "As far as the rest of it I don't know what's going on," he said.
The County Treasurer said the requirements for the new County Judge will be they must live in Burleson County and be 18 years of age. They also have to qualify for a $100,000 surety bond and cannot have any unpaid debts to the county. Earlier Monday afternoon five people had applied so far.

Former Burleson County Judge Mike Sutherland's written statement issued last week to KBTX:
After serving more than 16 years as county judge, I am retiring from public service. It has been an honor to serve the good folks of Burleson County for all those years as County Judge.
I've got a beautiful family that I'm going to spend more time with and I'm looking forward to life in Caldwell as a regular citizen.
Over the past several months, for reasons I can't fully understand, allegations have been made against me by certain individuals with the Texas Judicial Conduct Commission.
With my cooperation, the Commission has investigated these claims, which I have denied, and no findings have been made against me. There have been no grievances or complaints filed with the county regarding these allegations or any others against me during my entire 16 years of service.
With that said, the process has been stressful and I want the County to be able to move on without controversy or the potential for an unjustified loss of faith in our judiciary.
I am very proud of our work and the county's development during these last 16 years and hope that I can be remembered as a positive part of progress.