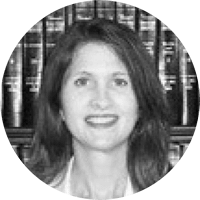 Former Texas State Judge Elizabeth Coker
LIT COMMENTARY
The year is 2013. Here we have the tale of two Texas ladies, one a judge (Coker) and the other (Jones) a prosecutor. They start texting each other in court about an active case, a no-no. So the end result is Coker, who had recently switched parties from Democrat to Republican ends up having to resign and now she's returned to being a private lawyer.
The twist here is that Jones was running for Judge in the same court and so now you know why the ladies were texting each other…
When it was Jones turn to respond to the texting allegations, she played the minority role card which worked a treat for the commission to use as an excuse to do nothing. She was on the bench and with a half-hearted apology, Jones was in the job she wanted, despite her texting misconduct.
In 2016, now Judge Jones, she's taking a ride with a DPS Trooper in the evening doing DWI stops. Make of that what you will but we reckon she loves a man in uniform. Not exactly any other reasonable reason why a judge is out prowling the streets on a Friday night is there?
You can read the tale below but basically she's guilty of being a judge and a witness, another no-no. What happens after this 2nd complaint, this time as a judge? Nada, nothing, zilch. Kaycee Jones is still as sitting Texas State Judge in 2020. A review of the SCJC website shows no public sanction or discipline for Judge Jones in this matter, despite her previous misconduct as a prosecutor and soon to be judge.
As we prepare this commentary on a Friday night, we only hope she's not out on another road trip with a DPS Trooper or texting while driving.
The Tale of the Texting Judge
How small town justice became a big time scandal in East Texas
Published date; Nov 1, 2013 Update by LIT; Jan 10, 2020
Like most events inside the old courthouse in Livingston, Texas, population 5,238, the felony child abuse proceedings on August 8, 2012, involved a cast of legal professionals who knew each other well.
State District Judge Elizabeth Coker, a third generation jurist with deep roots in the rolling farmland of East Texas, presided.
David Wells, an investigator in the district attorney's office shared a yellow legal pad with the prosecutor, Beverly Armstrong.
Another prosecutor, Kaycee Jones, was there just to observe. But at one point, her phone buzzed and she reached over to scribble a note on her colleagues' paper.
"Judge says…," it started. And so began the trouble.
Criminal defense attorneys often grumble that judges favor the prosecution. Substantiating such suspicions is usually impossible.
But in Coker's case, it apparently wasn't all that hard. After a 14-month investigation by the State Commission on Judicial Conduct, Coker stepped down from the bench last week, rebaptized in the local headlines as the "Texting Judge" and making news far beyond the hushed hallways of the three small town courthouses where she served.
Jones, the prosecutor who transcribed the text, is also under fire.  In January, Coker welcomed the newly elected Republican to the bench—the three counties are served by just two district judges—swearing her in and helping her don her black robes.
In a letter sent to the Office of the Chief Disciplinary Counsel for the State Bar of Texas, Jones later said she "deeply regretted her actions in passing on the judge's text message and added: It was wrong and I knew better."
The State Bar has a March hearing scheduled to look at complaints about her actions.
The pleasant countryside around the small towns where the tale of the texting Texas judge began belies the turbulent political climate surrounding the whole affair.
Newcomers, many of them retirees from nearby Houston, have changed the political map from yellow dog Democrat to deep red Republican. In 2006, San Jacinto County was embroiled in a McCoy-Hatfield political feud between what the Texas Observer called the old guard versus the new. It was a fight less about ideology than political power.
Full scale feuding had begun when new guard Democrats joined with the first Republican district attorney in San Jacinto County in what they cast as as a campaign to root out political corruption.
The first target was was an old guard Democratic county commissioner who had used county equipment to build a road on his land — not an unheard of thing in rural Texas counties. (There is an old Texas joke about the county judge who said: "Re-elect me 'cos you've already built the road to my ranch.")
But the feud spiraled into full-scale war involving everything from federal lawsuits, the Texas Rangers, and pornography found or planted, depending on which side of the struggle you were on, on the county judge's computer.
Coker, a Democrat, was part of the old guard and presided over a grand jury that indicted some of the players in the political faceoff. (Most were exonerated.)
Despite the political turmoil, Coker seemed secure in her position. She served as president and later a board member of the alumni association at Baylor, her alma mater. Coker and her husband, Trinity County Judge Mark Evans, also a scion of an old political family and the son of a sheriff, were fixtures at chamber of commerce banquets and VFW Post picnics.
In 2007, a Hollywood production company announced that it was developing a reality series around the power couple:
"Two legal minds are better than one as Judge Mark Evans and his wife Judge Elizabeth Coker bring their home life to the bench on 'Relative Justice,' a relationship-themed twist on the family court show genre," a company press release announced.
The show never made it to TV, but Coker was more than popular than ever back home. She had handily won re-election in 2006 to her third four year term and won again, running unopposed for a fourth term in 2010.
But things change fast. In April of this year, Coker left the party of her forefathers and joined Jones in the GOP.
"I walked in here tonight with the same values, principles and faith that I shall leave with" Coker told the Polk County Republican Club, according to the local newspaper, The Trinity Standard. "Our conservative way of life here in East Texas is most reflected by the Republican Party: the importance of family, service to our country and praying for strength and guidance," she said.
She never gave a reason for the switch, though state government is dominated by Republicans and her once-Democratic district was trending toward the GOP.
Did the political feuding and shifting alliances contribute to Coker's downfall?
There are courthouse whispers and charges flying to and fro in local letters to the editor, but no one is talking on the record.
A few weeks after she switched parties, a prominent Houston Democratic state legislator filed papers calling for her impeachment, but the effort went nowhere in the Republican-dominated legislature.
This month, the judicial commission, its members appointed by the Texas Supreme Court, the State Bar and the Governor, issued the agreement for Coker's resignation.
Coker declined to be interviewed for this story. But in a statement on October 21, the day she handed in her resignation to the governor's office, she said was not admitting "guilt, fault or liability" by stepping down.
"While I could have fought these allegations, it would have involved significant time, significant expense, and disruption to everyone involved. I did not feel that was in the best interests of the taxpayers, our court system, my family or myself," she said. "My dad and grandfather taught me that judges have to be accountable for their actions and conduct. Resigning the bench as well as taking a voluntary leave of absence is the best way for me to take responsibility for this situation in a way that honors the office and serves the best interests of Polk, San Jacinto and Trinity counties."
Reading between the lines of Coker's statement and the agreement she signed with the judicial commission, there may be more trouble ahead.
Not only did the commission investigate the allegations made by Wells, it also stated in the agreement that it had investigated claims that the judge "allegedly engaged in other ex parte communications and meetings" with prosecutors in two counties and with favored defense attorneys, and allegations that she showed bias in favor of certain attorneys in "both her judicial rulings and her court appointments."
The commission also investigated claims that the judge met with jurors "in an inappropriate manner…while they were deliberating in one or more criminal trials."
All that could lead to a wave of legal challenges in cases over which Coker presided.
"I expect many writs of habeas corpus in other cases to be filed based on her behavior in this case," says Mark Bennett, a Houston criminal defense attorney and former president of the Harris County Criminal Lawyers Association. "Whether any of them will succeed, I don't know."
The commission also expressed "concerns" about Coker's attempts to influence a witness called before the commission, saying the "judge may not have been candid and truthful in her testimony before the Commission when questioned about her contact with the witness." The commission's "very strong" language, Bennett says, could indicate that Coker's law license might be in jeopardy because of her alleged attempts to influence testimony before the state's judicial ethics body.
Regardless of whether she's disbarred or the degree to which politics have colored the tale, Coker wrote the opening chapter: a simple 27-word text, typed in an old county courthouse, a message that ended a judicial career and cast a long shadow in East Texas.
TX: Prosecutor-Turned-Judge Gets Lightest Possible Punishment for Brazen Misconduct
The texting scandal between a judge and an assistant district attorney that exploded in Texas and national news last year has ended in little more than a slap on the wrist for the prosecutor involved.
Kaycee Jones, an assistant district attorney in Polk County texted back-and-forth with sitting judge Elizabeth Coker about a line of questioning that Coker suggested the State should employ during a felony trial in 2012. Last week, Jones received a public reprimand from the Texas State Bar for her involvement in the scandal.
Jones is now a district court judge in the 411th court, overseeing Polk, Trinity and San Jacinto counties.
Given the egregiousness of the misconduct committed by Jones, her public reprimand has not been met favorably by those who sought to have her held accountable – and for good reason.
Recap of the Misconduct

Here's our recount of Jones's misconduct from an earlier post:
Judge Elizabeth Coker sent the text messages during the trial of David Reeves, a defendant charged with injuring a child. In the message, she apparently suggested that the state ask witnesses what Reeves was capable of, given that he allegedly threw a puppy off his bed after it urinated. A Polk County investigator who was observing the trial, David Wells, was interrupted when Jones asked him if she could use his notepad. He watched as Jones wrote the following message:
"Judge says… baby pooped on (Reeves) – if he threw a dog off the bed because the dog peed on bed what would he do if baby pooped on him?"
Jones then passed the note to lead prosecutor Beverly Armstrong. Though Armstrong didn't use the line of questioning, Wells and first assistant prosecutor Joe Martin apparently felt that the communication was "very unethical" and Wells subsequently filed a report with the District Attorney's office.
Read investigator David Wells' statement about the incident here.
Wells' statement is particularly revealing in that it suggests this wasn't the first time Jones had engaged in ex parte texting with Coker. He writes,
"I spoke to A.D.A. Beverly Armstrong this date 08-09-2012, and advised her I did not author the note and she advised it was not the first time as A.D.A. Kaycee Jones is in her ear all the time regarding information she believes to be given to her by Judge Coker via text during trial."
Coker's Sordid History of Misconduct
This summary only scratches the surface of Coker's alleged misconduct during her tenure as a judge (and unfortunately, it will only ever be "alleged" because the State Commission on Judicial Conduct never made findings of fact in her case; see more below). The Commission on Judicial Conduct, which entered an agreement with Coker that she would voluntarily resign from her judgeship for her part in the texting incident, suggested in the agreement that Coker may have also:
Conducted a wealth of other improper ex parte communications with defense attorneys and assistant district attorneys in Polk and San Jacinto counties;
Showed favoritism to certain attorneys and prejudice against others in court appointments and rulings;
Inappropriately met with jurors during deliberations and outside the presence of counsel in more than one instance;
Discussed the Commission's investigation into her conduct with a witness who was set to testify. She tried to influence the witness's testimony, and then lied about doing so to the Commission.
Following her resignation as a judge, Coker didn't skip a beat before running for District Attorney of Polk County – that's right, the county where her misconduct was initially uncovered. Coker challenged sitting District Attorney Lee Hon in the 2014 Republican primary and lost in March. (As Grist for Breakfast says: you couldn't make this stuff up.)
Jones Gets Slap on The Wrist
And that's only half the story.
In the same month that Coker lost the primary, Kaycee Jones faced a state bar grievance committee hearing. Upon conclusion of that hearing and the State Bar's deliberations, Jones was found guilty of misconduct and received the following discipline:
A public reprimand and attorneys' fees in the amount of $650.
A public reprimand is the lightest sanction a prosecutor can receive under the Texas ethical rules.
It's true that Jones did not initiate the texting with Coker (though she kept it up once Coker began), and she has since conceded wrongdoing to the State Bar (which Coker never did). But should she be let off that easily?
Jones is guilty of violating "one of the fundamental rules of American criminal justice: the prohibition against one side getting to talk to the judge without the other side knowing about it," according to legal experts cited by The Houston Chronicle.
Specifically, the State Bar found Jones transgressed the following ethical rules:
3.05(b) – A lawyer shall not; exc3ept as otherwise permitted by law and not prohibited by applicable rules of practice or procedure, communicate or cause another to communicate ex parte with a tribunal for the purpose of influencing that entity or person concerning a pending matter…
8.04(a)(6) – A lawyer shall not: knowingly assist a judge or judicial officer in conduct that is a violation of applicable rules of judicial conduct or other law.
Jones sent texts back and forth with Coker and then wrote down Coker's suggestions for how to prosecute an active case in her courtroom to share with the trial lawyer. Surely, her and Coker's conduct devastated the public's trust in Polk County's system of justice.
Failing Accountability
Furthermore, the incident highlights how accountability mechanisms can fail on numerous levels.
Investigations into the Coker-Jones snafu got off to a shaky start when Polk County District Attorney Lee Hon would not appoint an independent arbiter to review the incident, but insisted on his own internal investigation. This was particularly problematic since Hon himself read the problematic note from Jones before he motioned for Wells to pass it to the trial prosecutor.
It is curious that Jones felt comfortable writing "Judge says" at the top of the notepad above Coker's text before passing it directly to Hon. If Wells hadn't later secured the note and filed a report about the incident, there's no reason to believe it would have ever come to light.
Then there's Coker. The State Commission on Judicial Conduct agreed to let Coker step down from her job without making any official findings of fact about her misconduct. While it is a very serious punishment that Coker can no longer serve as a judge, the circumstances of her removal allowed her to deny any wrongdoing and immediately run for District Attorney. If she had won… well, that's a scary thought. But absent her disbarment from the practice of law, it's not an unrealistic one.
Lastly, there's the public reprimand of Kaycee Jones. The Houston Chronicle relays the comments of a local attorneys and criminal justice experts who suggest Jones should have received a heftier reprimand. Like Wells' statement, the Chronicle also suggests that there might be more instances where Jones texted with the judge that have yet to come to light. For now at least, Jones is free to go on with her job presiding over criminal cases as a sitting judge. This is not exactly reassuring in light of what was fairly brazen (and perhaps repeated) misconduct on her part.
The Texas State Bar's handling of the Michael Morton case renewed hope that the bar complaint system in Texas could. But the outcome of this present incident gives pause for thought. Perhaps the Bar didn't feel it needed to come down too harshly on Jones because the defendant, Reeves, was ultimately acquitted.
However, the fact remains that Jones knowingly abused her power as a representative of the state in an attempt to win a conviction. It's precisely this culture of conviction – and not just individual injustices to defendants – that state bars need to definitively push back on. Time will tell if the Texas State Bar is up to the task.
Current Texas State Judge Kaycee Jones
The Texas Judge and the DPS Trooper
Report: Polk Co. district judge subject of complaint to Commission on Judicial Conduct
Published date; June 30, 2016  Update by LIT; Jan 10, 2020
A district judge who serves in San Jacinto, Trinity, and Polk counties is the subject of a formal complaint to the Texas Commission on Judicial Conduct, according to a story by Houston-based KPRC.
Judge Kaycee Jones, who handles felony criminal cases and child custody matters for the 411th Judicial District Court, was elected in 2012, and she has been previously reprimanded by the Texas State Bar.
KPRC cited documents that showed a driving while intoxicated case in which she issued a blood draw warrant had to be dismissed because Jones was also listed as a witness in the case.
San Jacinto County Judge John Lovett told KPRC that he had no choice but to dismiss the case because the state's primary pieces of evidence was inadmissible.
"On the night of April 20, 2014, Jones was the on-call magistrate during a DWI 'No Refusal' weekend when she volunteered to ride-along with a DPS trooper, looking for DWI offenders," KPRC's story stated. "Documents obtained by KPRC Channel 2 showed the trooper listed Jones as a witness to an arrest, while at the same time, she was charged with impartially determining whether blood should be drawn from the person stopped."
Brian Wice, a former judge who serves as a legal analyst for KPRC, said district court judges "have no business sitting inside a DPS squad car on a 'no refusal' weekend.
According to the KPRC story, Jones declined an interview request and declined comment at the San Jacinto County Courthouse.
"Also at issue is whether the judge specifically instructed the trooper to leave her name off the application for the blood draw warrant," the KPRC story stated. "The trooper offered testimony on the matter during a motion to suppress evidence in the DWI case."
The KPRC story stated that least one person has filed an official complaint with the Texas Commission on Judicial Conduct because of the matter.
"The state panel looks into allegations of wrongdoing by judges," the KPRC story stated. "The panel conducts business largely out of the public eye, and most of the group's investigative work is not subject to open records."
The Texas State Bar disciplined Jones for an incident that allegedly occurred on Aug. 8 2012, when Jones was serving as the assistant district attorney for Polk County. Jones allegedly received text messages from then-258th Judicial District Judge Elizabeth Coker during the felony injury to a child trial for David Reeves that coached her on what to say.
As a result of the investigation by the State Commission on Judicial Conduct, which regulates communication between judges and lawyers, Coker agreed to resign from her position.