CASE NO. 19-13015-D
IN THE UNITED STATES COURT OF APPEALS FOR THE ELEVENTH CIRCUIT
CONSUMER FINANCIAL PROTECTION BUREAU,
                                         Plaintiff – Appellee
v.
OCWEN FINANCIAL CORPORATION,  a Florida Corporation,
OCWEN MORTGAGE SERVICING, INC., a U. S. Virgin Islands corporation,
and
OCWEN LOAN SERVICING, LLC, a Delaware limited liability company.
Defendants – Appellees
v.
JOANNA BURKE, JOHN BURKE,
Intervenor Plaintiffs – Appellants.
On Appeal from the United States District Court For the Southern District of Florida, Houston
Division;
District Court Docket No. 9:17-cv-80495-KAM
APPELLANTS BURKES' MOTION TO CLARIFY
APPELLANTS BURKES' MOTION TO CLARIFY CFPB's CERTIFICATE OF INTERESTED PERSONS
May 28, 2020
Appellants, Joanna Burke and John Burke ("Burkes"), now file a Motion seeking clarification as to why Anthony 'Tony' Alexis is listed on the Consumer Financial Protection Bureau's CIP as an attorney for Plaintiff's (CFPB)?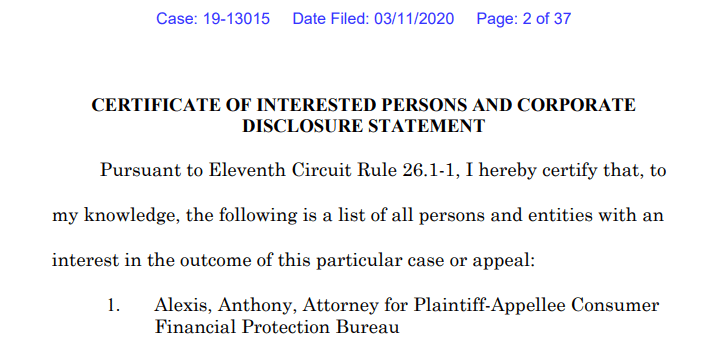 "Tony Alexis is a partner in Goodwin's Financial Industry and Consumer Financial Services Litigation practices and serves as the head of the firm's (Goodwin Procter's "Goodwin") Consumer Financial Services Enforcement practice."
The Burkes have identified and the court is clearly aware, the 'opposing parties' colluded against the Burkes in this case. This is now firmly evidenced by the fact that Mr. Alexis, per Goodwin's website bio, states, in part;
"Prior to joining Goodwin in 2017, Mr. Alexis served as Assistant Director and Head of the Office of Enforcement at the Consumer Financial Protection Bureau (CFPB), where he developed and managed the CFPB's enforcement strategy, consumer financial investigations and litigation."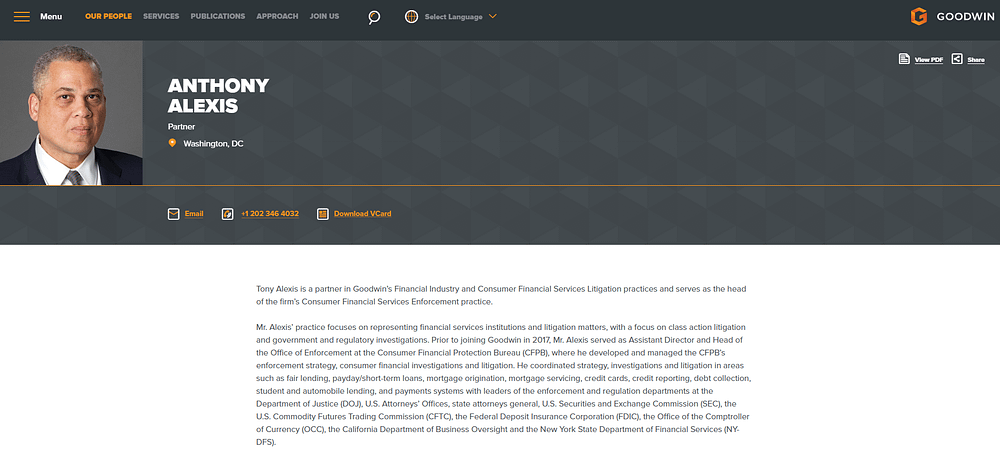 Goodwin Procter's Other Trials and Tribulations: The Burkes are alarmed, as they uncover more and more unethical and criminal acts by Goodwin. In preparation of a deluge of formal written complaints against these lawyers to their respective State Bar(s), the Burkes are investigating.
What the Burkes have unearthed is a modern day "Erin Brockovich". One of extreme deception and corrupt acts by this large law firm. These findings will be addressed separately and in conjunction with this case and the ethics complaints that will be forthcoming.
As Brockovich says on her website;
"Often times we don't think about or worry about or understand what is happening to another until it happens to us. Deceits have no boundaries. Disease doesn't recognize the color of our skin or our political parties affiliation. When it comes to cover-ups and destruction of our environment, we are all up for grabs."
Conclusion: The Burkes appreciate the call today from the court expressing that the Burkes reply was deficient due to the "One Attorney, One Filing" rule for Reply Brief(s) and that the Burkes have to resubmit one brief on or by June 11, 2020.
As such, the Burkes respectfully requests clarification if Mr. Alexis has represented CFPB in this case or the lower court proceedings, is currently skipping between both Goodwin and CFPB as "of counsel" or what the legal standing is for this gentleman.
After all, the filer of the reply brief for the CFPB, Mr. Barrett, also has a pseudonym depending on where he files cases on behalf of the CFPB. To be frank, it is  very confusing and clandestine.
Respectfully submitted,