Ex-judge Tim Nolan sentenced to 20 years in human trafficking case
Originally Published: May 4, 2018: Republished by LIT; 28 Nov, 2020
CAMPBELL COUNTY, Ky. — An ex-judge was sentenced Friday to 20 years in prison for human trafficking case.
Timothy Nolan, 71, a former Campbell County District Court judge, was sentenced in front of several victims.
Assistant Attorney General Barbara Whaley read from victim impact statements before Nolan was sentenced.
"I find it hard to sleep some nights because certain images from my past encounters with Tim Nolan continue to haunt me," Whaley said as she read one victim's letter.
No less than a half-dozen victims wrote letters.
"Each time I left him, he took a piece of my soul as payment," another victim wrote.
Nolan apologized for his crimes and read from the Bible.
"I look to Luke chapter 5. Jesus tells us…" Nolan said before he quoted Jesus.
Nolan asked the judge to consider parole.
"I resolve to fight my demons and addictions and to not repeat my immoral conduct and behavior," Nolan said.
Judge Kathy Lape said she did not believe Nolan's apology was sincere.
"The threats, manipulation and ultimate abuse ends today," Lape said.
As part of a plea agreement, Nolan pleaded guilty in February to more than 20 charges charges against 19 victims.
Charges included human trafficking of adults, promoting human trafficking of minors and unlawful transaction with minors.
Court records said Nolan "used money, drugs, housing, threats to call the probation office, and violent acts, as means to coerce, deceive and force the women to engage in commercial sexual activity."
But in a bizarre court appearance in March, Nolan withdrew his guilty plea and fired his attorneys.
Nolan was a Campbell County judge more than 30 years ago and recently served as a Board of Education member. He resigned from the board in May.
Tim Nolan was a judge. Tim Nolan was a conservative activist. Tim Nolan was a human trafficker.
March 26, 2018 | Republished by LIT: Nov. 28, 2020
Tim Nolan listens to his attorney, Margo Grubbs, in Grant County Court on June 12, 2017.
If you want to know how Tim Nolan went from a judge to a man jailed for trading heroin for sex, you might start at the Rabbit Hole.
That's a weathered dive bar, now silent and shuttered, just off a country road in rural Northern Kentucky next to a crumbling trailer. Nolan owned the bar and the trailer, as well as a sprawling farm in the hills of southern Campbell County.
The Rabbit Hole is a real place, but it's also an apt metaphor for the dark and disorienting twists in Nolan's life.
He crusaded against vice, became a tough-on-crime judge and school board member, labored for the Republican party, then the tea party, then Donald Trump.
And then came the women in the trailer and other properties, women he forced to have sex with him in exchange for heroin or threats of eviction. There was the dust-up over the Ku Klux Klan photo at the Rabbit Hole; a brain tumor; and finally an investigation that drew national attention.
Nolan abruptly pleaded guilty to promoting human trafficking in February. He'll be sentenced Thursday.
"I guess you never quite know people," said Ken Moellman, Jr., who worked with Nolan on conservative causes. "I genuinely do struggle to understand how and why."
As a judge, Nolan was known for being strict – something he was proud of. It earned him a reputation as a "hanging judge," an Enquirer profile from 1981 notes.
"The word from offenders is, 'If I get in trouble, I don't want to come before Nolan,' " he said of himself.
Three decades later, he thanked a judge for her tolerance after he pleaded guilty to 21 counts involving human trafficking, trading heroin for sex with women – some of them tenants, some of them underage.
There were 19 victims over a 10-year span, he admitted as part of his guilty plea.
Nolan agreed to serve 20 years as a result of the plea agreement. At 71, with a litany of medical ailments, this could be a death sentence.
Former judge Tim Nolan attends an arraignment for additional sex crime charges May 10, 2017, at the Kenton County Justice Center in Covington. Nolan faces charges of first-degree rape, human trafficking, and witness tampering among others.
Boxing, philosophy and a loathing for lawyers
As a young man, Nolan loved boxing and philosophy. He attended Covington Latin – a prestigious private Catholic school in Covington that often graduates students early for college.
His mother forbade him from boxing, so he earned a bachelor's degree in philosophy and theology from Thomas More College in Crestview Hills. That's according to his own description in a defamation lawsuit he filed in 2016 against some other Republicans. More on that lawsuit later.
He earned a law degree and served as Newport's city attorney for two years in the 1970s. It was an important time for the city across the Ohio River from Cincinnati: Newport was trying to clean up its "Sin City" reputation as a haven for porn theaters and strip clubs.
He helped the city draft an ordinance – passed by the city commission in 1976 – forbidding "obscenity, sexual misconduct and indecent exposure" in public places.
Barely 30, he ran for judicial office and won. Within months of taking the oath as a district judge in Campbell County in 1978, Nolan's severe sentences and courtroom demeanor drew complaints.
Nolan scoffed at his critics in a May 7, 1978, article in The Enquirer.
"It's no great secret that very few lawyers supported me for election and fewer still were happy when I won,"
Nolan said in the story.
"I couldn't be happier than to have that. I hope lawyers never support me for a judgeship because as a group, they are one of the most despised professions."
His hatred of lawyers didn't discourage him from resuming his law practice in 1986 when he lost re-election.
He retired in 1999 after being diagnosed with a brain tumor on his pituitary gland.
He didn't disappear from public life.
Nolan was a fixture at political and local government meetings for much of the past two decades. He railed against taxes and government spending – his nickname for Campbell County Judge-executive Steve Pendery was "Spendery."
He could often be seen gathering petitions to push various causes – to reverse tax increases or reform government. After the tea party movement launched following President Obama's election, he was a fixture at rallies and meetings.
Tea party leaders now distance themselves from him.
"He wasn't that involved," said Northern Kentucky Tea Party leader and Campbell County resident Erik Hermes. "He had no role (in the tea party). He wasn't that different from anybody else."
His daughter, Campbell County Circuit Court Clerk Taunya Nolan Jack, declined comment. His son and another daughter couldn't be reached for comment.
An 'enthusiastic volunteer' for Trump
One of the reasons Nolan's story drew national attention was because of his role in the Trump presidential campaign.
Nolan served as a Trump-supporting delegate in April 2016 at the Kentucky Republican Convention and led the unsuccessful charge to remove U.S. Sen. Mitch McConnell as a delegate to the Republican National Convention.
The Republican Party of Kentucky also confirmed he was the official Trump campaign representative in Frankfort observing the ballots being counted in the March 2016 Kentucky GOP Caucus, which Trump won with 36 percent of the vote.
No one questioned Nolan in 2016 when he called himself Trump's campaign chairman in Campbell County.
But Trump's official Kentucky campaign didn't form until August 2016. Nolan wasn't a part of that organization, said Phyllis Sparks, a Boone County Republican who served as Trump's state coalition director, in an interview with The Enquirer in May 2017. Nolan was self-appointed, she said.
"It's a big misunderstanding," Sparks said. "I'm very sorry this happened with Tim Nolan, but to continually say he was county chairman of Trump's campaign is wrong. But he was an enthusiastic volunteer."
Nolan himself told The Enquirer in an interview last year he was proud of his work for Trump.
"I was clearly chairman for the caucus," Nolan told The Enquirer. "I guess because of my current difficulties, they want to put some distance from me."
The Rabbit Hole Bar, in California, Kentucky.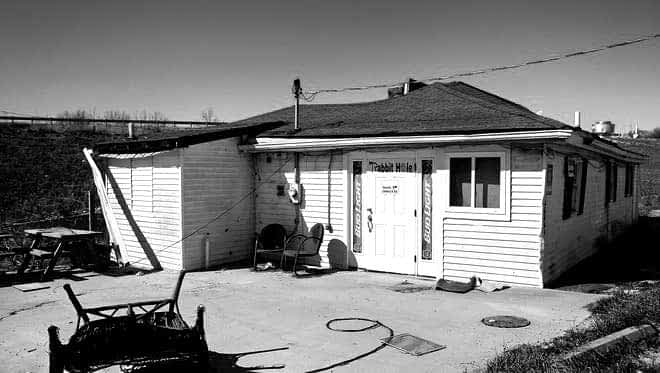 Nolan's confrontational style garnered political enemies, even among fellow Republicans who labeled him a racist. A group of Republicans created a website, GOPfacts.org, dedicated to criticizing tea party activists. Nolan was one of them.
One of the site's operators in 2016 posted a screen grab from Nolan's Facebook page showing someone in the white robes of a Ku Klux Klan member at his bar, the Rabbit Hole.
Nolan posted the picture in 2013 with the statement "Comn(sic) out to the Rabbit Hole and join the clan." Nolan quickly deleted the post but not before it was caught by others who saved it. (He said it wasn't him in the suit, but doesn't dispute there was a photo.)
The operators of GOPfacts.org called Nolan racist. Nolan sued for defamation, saying the photo was part of a Halloween stunt. The suit is still pending, even with Nolan's current legal troubles.
The allegations of racism didn't prevent Nolan from winning election to the Campbell County School Board in November 2016.
His tenure would only last about five months.
One of his victims – the one who started the investigation – was a student at Campbell County High School.
A shocking accusation, an investigation
One day in December 2016, a 16-year-old student at Campbell County High School approached a school counselor.
She had some shocking accusations against her landlord, who happened to have been elected to the school board the previous month, according to court testimony from the lead detective, Campbell County Police Detective Donald Dornheggen.
That landlord, Tim Nolan, had sexual contact with her the previous summer, the student told the counselor.
The accusation touched off the investigation that led to Nolan's downfall.
The girl told authorities Nolan invited her over the summer to go "quad riding."
While at his house, Nolan offered her $40 for a back massage, then took off his clothes. He put her hand on his crotch and then performed a sex act, according to the police affidavit.
That was enough for a search warrant of Nolan's home nestled on 70-acres of farmland in southern Campbell County. His attorney, Margo Grubbs, told a judge police came in "guns ablazing." Police have declined comment.
Guns or not, the police left with Nolan's phones, computers, zip drives and a marijuana grinder, according to the search warrants.
The life and death of Tiffany Rose
A little less than a year later in November 2017, the high school student's mother, Tiffany Rose, was found dead in a creek in Gallatin County.
She had 60 times the amount of Diphenhydramine – the active ingredient in Benadryl – than is safe, said Kentucky State Police Detective Dusty Corbin. Two teenagers looking for minnows to use as bait found Rose's body face down in a creek.
Her body lay 1,000 feet from where she was last seen 12 days earlier after having a fight with her girlfriend and threatening to take a bunch of pills.
Police ruled it an overdose and have found no evidence of foul play.
Rose's life and death show the consequences of Nolan's sex abuse, her family told The Enquirer.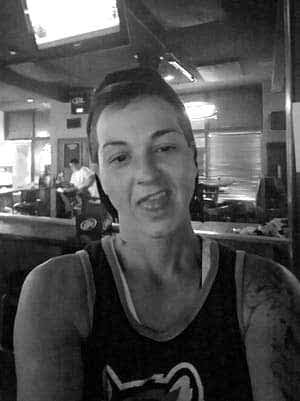 "I'd like to know why he did what he did to my granddaughter," said Margie Rose, Tiffany's mother. "Now my daughter is not here for us. He took her from us."
Tiffany had suffered from a drug problem and met Nolan 13 years earlier in at the Campbell County courthouse, Margie Rose said. Nolan had approached her and asked her out, she said.
"She was down at the courthouse for something," Margie Rose said. "He came up to her and started talking to her. He kept pursuing her and pursuing her."
By this time, Nolan hadn't been a judge for almost two decades. But he was friends with many lawyers and judges, Rose said. At one point, Tiffany Rose, her three children and her mom lived in Nolan's trailer home by the Rabbit Hole, Margie Rose said.
She said she didn't suspect anything wrong until her granddaughter came forward.
Nolan has wanted to tell his side of the story, but his attorney has blocked any attempts, at least until after sentencing.
Nolan's lawyer did offer this statement:
"With all due respect to a mother grieving for the tragic loss of her daughter due to the ravages of drug addiction, we are very sorry for the family's loss. However, Margie's version of her daughter's history with Mr. Nolan is not consistent with the hard facts of that relationship.
Furthermore it is not consistent with the true relationship Mr. Nolan had with Margie herself.
Mr. Nolan regularly provided Margie and her family members with food, shelter, and often with clothing. Being respectful to Tiffany Rose and her right to rest in peace, it would be inappropriate to make further comments."
A trailer that Tim Nolan once owned sits off a dead-end lane near the Rabbit Hole Bar, in California, Kentucky.
As the police continued the investigation, more victims came forward.
A search warrant for Nolan's properties, dated May 10, detailed allegations from two female victims.
One victim, identified as Jane Doe 1, told police she met Nolan in January 2016. She called Nolan for a ride home when he pressured her to have sex with him for $100, according to a search warrant from the Campbell County Police.
That began an unconventional relationship, according to the search warrant. Nolan would buy her heroin and record her shooting up, the police wrote in the search warrant. He also paid her for sex – and at least once physically forced her to have sex, the warrant said.
Other victims, all identified in court documents by initials, accused Nolan of paying them or threatening them to have sex with him. Sometimes he paid them to have sex with other women, the warrant said.
Police amassed videos and photos of the defendant having sex with young women, some who appear to be under 18, court documents filed by the prosecutor alleged.
But it all came to an end in April 2017 when police arrested Nolan for human trafficking.
"I can't imagine what he did," said former judge Mickey Foellger on the day of Nolan's arrest. "I don't want to speculate. It's mind-boggling that he would be with an underage girl."
"I thought he was a very nice lawyer," said long-time attorney Phil Taliaferro. "I never suspected he'd have these problems."
The former judge looks aged and has lost an incredible amount of weight.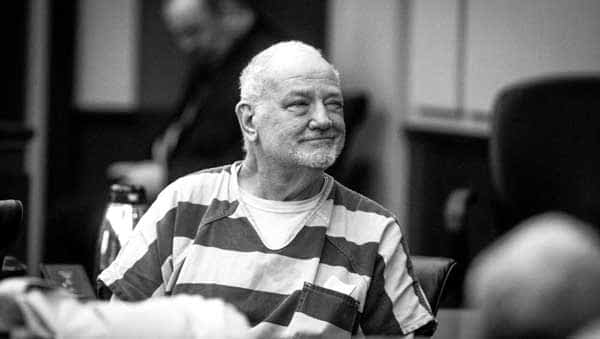 What about the brain tumor?
But while no one suspected Nolan of human trafficking, all was not well with him.
In court documents, his attorney raised the possibility of a "mental condition" caused by the brain tumor. But Nolan opted to plead guilty rather than argue mental illness. Court filings indicate he'd suffered from mental problems for the past two decades.
The tumor caused memory loss and attention deficit hyperactivity disorder, according to medical evaluation in the case file.
After Nolan was charged with an additional 30 counts of human trafficking, a psychologist in September 2017 from the Kentucky Jail Mental Health Crisis Network evaluated Nolan. She said he wasn't suicidal, though he was on Lexapro, which is used to treat depression and anxiety.
In January it appeared Nolan planned on blaming the tumor and mental issues for his behavior. His attorney filed a motion indicating he planned to introduce medical evidence related to the brain tumor and his state of mind on his "competency and culpability."
A few weeks later, Nolan pleaded guilty. What changed?
His attorney, Margo Grubbs, said after the guilty plea she had a conversation with her client.
Grubbs said Nolan took responsibility for his actions. She made a cryptic reference to generational differences in how sex is viewed.
"He took full personal responsibility for these acts that in his potential day and generation would not necessarily be considered to rise to the level of human trafficking," Grubbs said.
Tim Nolan's drive way is gated with a chain and lock, in California, Kentucky.
'We just mind our own business out here'
On the country road near Nolan's house and the Rabbit Hole, neighbors described Nolan as outgoing but eccentric.
He'd always have crazy political causes, said one neighbor who didn't want to be named. But no one in his neighborhood suspected anything sinister.
"I've been here many times and I never saw anything," said Ron Gross who was visiting his elderly mother who lived next door to Nolan's residence. "But then again we just mind our own business out here."