LIT COMMENTARY
From 'judge shopping' to judicial 'blind draw' assignments which are manually assigned in secret by judges and in contravention of the laws – LIT's ragin' into 2021 and reminding citizens that your civil rights, property and liberty is at high risk in these unpredictable times. Subscribe to our free daily newsletter direct to your inbox to keep up to date with the latest news from Laws In Texas.
No Charges To Be Filed Against Officer Lippert In Clemmons Case
Originally Published: May 11, 2017 | Republished by LIT: Jan 3, 2021
District Attorney Glenn Funk announced no charges would be filed in the case of the fatal officer-involved shooting of Jocques Clemmons.
He and other officials from his office and the TBI made the announcement Thursday following the release of the Metro Nashville Police Department's finalized report.
Recent Stories from newschannel5.com
The MNPD report found that the Metro Nashville Police officer who fatally shot a man earlier this year was justified. The recommendation is exoneration for Officer Josh Lippert.
Read the full report from the Metro Nashville Police Department by clicking here.
It was released this afternoon by Metro Police ahead of an expected announcement from the District Attorney. There is a separate report from a TBI investigation. It is unclear what that report recommends to the DA.
Timeline: Investigation Into Jocques Clemmons' Death
The announcement was made Thursday after a lengthy investigation. Jocques Clemmons was shot and killed back in February after a traffic stop.
Metro Police conducted its own investigation, similar to what they have done for years; but after outcry from the community, District Attorney General Glenn Funk asked the Tennessee Bureau of Investigation to step in.
The TBI wrapped its investigation in April. Both the TBI and the DA's filed a petition with the Chancery's office to unseal the TBI's findings. A judge will rule on the petition in a hearing on May 22.
In DA Funk's press conference Thursday afternoon, Assistant District Attorney Amy Hunter released some concerns they had with the MNPD report/investigation.
1. Many of the offense description and wording of the MNPD reports project potential bias.
2. Some of the MNPD reports refer to the parties in the investigation in a way that projects potential bias.
3. When an investigative agency investigates itself, witnesses may be reluctant to come forward or disclose all facts.
4. MNPD Office of Professions Accountability recommended Officer Lippert be exonerated before the investigation was complete, and was also released ahead of the TBI report.
Funk stressed that the concerns were not a criticism of the people behind the investigation.
The investigation concluded that because Clemmons armed himself for a second time during the altercation and pointed a gun at the officer, Officer Josh Lippert had a legally sustainable argument of self defense.
"Had he kept running and would have been shot in the back unarmed, this would have been a completely different situation," said Funk while responding to a reporter's question.
Based on the investigation's findings, Funk announced that no charges would be pursued against Officer Lippert.
MNPD Chief Steve Anderson held a press conference shortly after the DA released his office's findings. He said there was no bias involved in their investigation and findings.
Anderson also said he would have to make some very tough decisions in the coming days, one of which regarding the employment of Officer Lippert.
The department also released its entire case file from the Lippert and Clemmons investigation, which included interviews of the woman who witnessed the shooting and Officer Lippert's interview with officers.
Police File Reveals Officer, Witness' Stories
Officials with the Justice for Jocques Coalition have scheduled a press conference for 5:30 p.m. at the NAACP Nashville Branch Office and released the following statement:
"Today Metro District Attorney Glenn Funk made a decision that impacted the family of Jocques Clemmons and will serve as the example for how the cases of Metro Nashville Police officers who kill citizens in the line of duty will be handled in the future. We had hoped that he would do the right thing and seek justice on behalf of this family. Unfortunately, he has decided to set the precedent that MNPD officers who shoot fleeing citizens in the back will not be held accountable for their actions.
Although the MNPD has obstructed the process from the beginning, that is no excuse for ignoring the evidence which clearly shows that Jocques Clemmons posed no threat to Officer Lippert and that Officer Lippert's actions were wrong and wantonly and capriciously violent. We do not need trigger happy officers running amok in our communities. They will only be emboldened now that they see that there will be no consequences for their actions.
The Coalition will continue to fight on behalf of the Clemmons family for the expeditious fulfillment of the demands which we have presented to the Mayor and the City Council. Particularly at this point, we see no reason why the police report which documents the police response to the incident cannot be released without further delay. Furthermore, we continue to demand the immediate firing of Officer Lippert. He simply cannot be allowed to be set loose upon the public where he will, without doubt, continue to brutalize and abuse innocent citizens at his whim.
We are grateful for the support we have received from the people of Nashville. Thank you for standing with us. Let's take this disappointment in stride and continue to fight for the right of every citizen to live in a neighborhood where they feel safe and secure."
Metro officer who shot Jocques Clemmons to resign
Originally Published:Oct 14, 2019 | Republished by LIT: Jan 3, 2021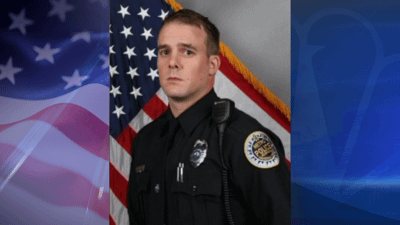 Joshua Lippert, the Metro Police Officer who shot and killed Jocques Clemmons, has submitted a letter of resignation, according to a department spokesperson.
Joshua Lippert
Kristin Mumford, Public Affairs Officer for Metro Nashville Police Department, said Lippert's resignation is effective Oct. 25.
"When [the attorney] told me I just screamed out 'thank you Lord my prayers have been answered,'" said Sheila Clemmons Lee, the mother of Jocques Clemmons. "Officer Joshua Lippert won't ever get to hurt another Nashvillian as an employee of Metro Nashville Police."
Lippert shot Clemmons on Feb. 10, 2017, following a traffic stop. Police say Clemmons ran from Officer Lippert, but dropped a gun during the process. Police say when Clemmons picked up the gun and tried to run away Lippert shot him.