Sedgwick landed six-year, $7.9 million state contract with also-ran cost proposal (with Gov. Receiving Free Jet Flights for her and Family)
Originally Published; July 18, 2019 | Republished; May 21, 2020 by Laws In Texas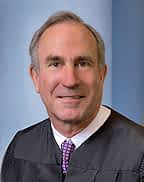 Justice Brent R. Appel, Ackworth, was appointed to the Supreme Court in 2006.
A Dubuque native, he received his bachelor's and master's degree from Stanford University in California in 1973 and his J.D. degree from the University of California, Berkeley, in 1977.
Following graduation from law school, Justice Appel served as a court law clerk for the United States Court of Appeals for the District of Columbia Circuit. In 1979, Justice Appel was appointed Iowa First Assistant Attorney General, and in 1983 became Iowa Deputy Attorney General. While serving in the Iowa Attorney General's office, Justice Appel argued and briefed four cases before the United States Supreme Court, including the second "Christian burial" case, Nix V. Williams. In 1987 until 2006, Justice Appel was engaged in private practice in central Iowa.
Justice Appel has served as chair of the Iowa State Children's Justice Council since 2010.
He has also served as chair of the Iowa Supreme Court's Task Force on the Rules of Evidence since 2015.
In the summer of 2016, Justice Appel was named by the Iowa Supreme Court to chair the newly formed Access to Justice Commission.
Between 2010 and 2016, Justice Appel was appointed by United States Chief Justice John Roberts to serve as a member of the Federal Advisory Committee on the Rules of Evidence.
Justice Appel is married and has five sons and a daughter.
His current term expires December 31, 2024.