LIT COMMENTARY
Grave Robbin' Lawyer E. James Veara of Dennis, Mass., wins the Burke and Hare award of 2020.
Dennis, Mass. Suspended Lawyer Reinstated to Practice Law
Originally Published: Dec. 27, 2020 | Republished by LIT: Dec. 29, 2020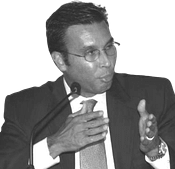 A Dennis lawyer who had his license to practice suspended for his involvement in a scheme to wring as much money out of a dying client as possible was reinstated to the bar last month.
Jamie Veara was barred from practicing law in 2018 after he, along with fellow attorney Gerald Nissenbaum, charged the estate of Kenneth Simon Sr. half a million dollars as the Harwich Port financial manager lay dying in a nursing home in 2005.
Veara was appointed to be Simon's guardian and racked up more than $500,000 in a mere 83 days at what the Board of Bar Overseers said were clearly excessive rates. The board said the fees were 33% higher than Veara's normal fees, despite him having no experience in that area of the law.
The two also tried to get Simon's marriage annulled despite Simon wishing to stay married to his second wife. They also hired a private investigator to the tune of $20,000 to try and get dirt on Anne Simon, his second wife who married the financial manager after she was released from prison for her connection to a Cape prostitution ring.
The Supreme Judicial Court reinstated Veara in late November after a panel of the Board of Bar Overseers determined he had shown that his conduct in the Simon case was a deviation from his typical ethical practice and he has since shown that he understands what he did was wrong and has a sincere commitment to not engage in future misconduct.
In the fallout from the incident, Veara, who served for years as town counsel to Brewster and Truro, lost his practice and since has gone on to become a vice president at the Davenport Companies.
"(Veara) has matured during the intervening fourteen-plus years and he has reflected almost daily, including while driving by the building where he used to maintain his office, on how he came to lose his practice," Paula Bagger, a member of the Board of Bar Overseers hearing panel, wrote in the majority opinion.
The panel recommended Veara's reinstatement, though Bagger did note that it would have been better if Veara did untangle his motivations and shortcomings that gave rise to this misconduct. But he has acknowledged wrongdoing and accepted responsibility for it, she wrote.
Veara was the one who petitioned to be reinstated but told court officials that he did not plan to resume practicing law. He did not respond to a request for comment, but a spokesman for the Davenport Companies, who Veara had done legal work for in the past, said that he would stay in his position there.
In addition to understanding the wrongdoing, to be reinstated former attorneys need to prove that they have kept up their competency and understanding of law, and Veara has tried to say up-to-date on developments in the legal realm by reading Massachusetts Lawyers and some court decisions.
Two dissenting panel opinions did not hold any punches on why they felt Veara shouldn't be allowed to practice law again.
Panel member David Krieger felt Veara hadn't cleared any of the hurdles for reinstatement and was not persuaded that Veara acknowledged his wrongdoing in a manner that would convince the public he was trustworthy. He said Veara's explanation for his misconduct never confronted his own self-interest in collecting fees simply because he knew the client could afford it.
Another panel member, Elizabeth Rodriguez-Ross, wrote for more than six pages on why Veara shouldn't be reinstated, saying that the "majority puts great weight in (Veara's) testimony acknowledging his wrongdoing, but I am unpersuaded that this was not mere opportunistic posturing."
Veara and Nissenbaum tried to collect about $524,000 in fees when a court found they should have only amounted to about $167,000.
Veara did have to pay restitution, but Rodriguez-Ross noted that he only paid back money when ordered to do so, which doesn't reflect well on his moral character.
She felt the "most disturbing aspect" of Veara's testimony was "his near total focus on what the suspension had done to him, his career, and his self-image," and a lack of concern for the effects his actions had on Simon and Simon's family.
"The majority appears to be prepared to accept (Veara's) reform based on these self-regarding considerations because they are satisfied that it will suffice to ensure ethical behavior, i.e., in accordance with the rules. I cannot agree," she wrote.
She also questioned charity efforts submitted by Veara, saying they were more the culture of the company he worked for or family activities that conveniently also had a charitable function, and questioned his legal learning after being disbarred.
For his reinstatement, Veara will need to have a mentor who will monitor him for 18 months should he decide to resume practicing law.
*From Krieger's website, which is offline as at March 10, 2021. Krieger objected to Veara practicing law in the above article.
David Krieger, KLG's founder
David is the owner of Krieger Law Group in Las Vegas. He has represented tens of 1000's of consumers over the last 18 years and has consistently provided exceptional results for his clients.
The financial crisis unleashed a staggering number of bankruptcies and foreclosures in Las Vegas, and it left many cash-strapped consumers frantically looking for ways to recession-proof their assets, and to get a fresh start on their lives and manage collection and foreclosure issues.
That is where David Krieger steps in. An experienced consumer bankruptcy and litigation attorney, and experienced in foreclosure solutions, and debt & credit management, David is co-founder and prior partner of Haines and Krieger in Las Vegas.
Having helped thousands of people in Las Vegas during these difficult times, he is on a self-proclaimed mission to turn the downward economy into an upward trend – at least as far as protecting people's money and saving people's homes is concerned. Krieger offers hope and tangible relief to financially ailing clients, allowing them to avoid devastating losses, and get a fresh start on their lives.
"I understand and empathize with their predicament, and use the legal system to help them hold on to their assets, dignity, and sanity," says Krieger, who has saved thousands of homes in Las Vegas from foreclosure. "Everyone's financial situation is unique. My philosophy is 'help good people through bad times'".
Local attorney E. James "Jamie" Veara sued for gouging dead man's estate
Originally Published: Feb 12, 2010 | Republished by LIT: Dec. 29, 2020
Jamie Veara, a locally prominent attorney who serves as Truro's town counsel, among other things, has found himself in some hot water as a result of questionable dealings with a Harwichport man's estate.
Veara has been ordered by a Plymouth County Probate and Family Court judge to pay back more than $118,000 to the estate of the late Kenneth E. Simon, to whom he acted as temporary guardian for 83 days in 2005.
The decision, which was featured in a front-page article in the Feb. 1 issue of Lawyer's Weekly, is the result of a trial that took place over 11 days in late 2008 and early 2009. It was issued by Associate Justice Stephen C. Steinberg on Jan. 14.
In all, the judge ordered that Veara and Boston attorney Gerald Nissenbaum return $328,771 of the $500,000 they billed the estate in the short time they were involved. Veara works for the Orleans law firm of Zisson & Veara, a firm with nine attorneys which also serves as counsel for the town of Brewster.
According to the 32-page judgment, Veara was appointed temporary guardian of the 71-year-old Simon on Aug. 11, 2005. Simon, a retired financial manager, was in Pleasant Bay Nursing Home in Brewster when Veara was appointed and had an estate valued at $4.5 million, including a home in Harwichport valued at over $1 million that was left to his wife, Anne Simon.
The Simons had known each other for 11 years when they were married in July of 2004. Mrs. Simon had served jail time for running a prostitution ring on the Cape. Simon's three children did not go to the wedding and were estranged.
It was when the children heard that their father's nursing home bills were not being paid that they contacted attorney Nissenbaum, who went to court to have a guardian appointed to oversee Simon's finances and to protect his well-being and assets. Nissenbaum suggested three lawyers who could act as temporary guardian, one of them being Veara, who was chosen because he was on the Cape and close by.
"From very the beginning of this case, the tactics undertaken by Nissenbaum and Veara were improper," concluded Judge Steinberg. "Nissenbaum drafted a divorce complaint before a guardian for the ward [Simon] had even been appointed and filed the complaint on the date of Veara's appointment. Veara never even reviewed the complaint before it was filed and then billed the estate for reviewing the complaint after it was filed."
According to the judge, Veara did not meet with Simon until five days after he was appointed. Simon had been moved from the nursing home to Cape Cod Hospital because his kidneys were failing. Veara testified that he did not know where Mr. Simon was, testimony the judge did not believe. Veara also testified that Mrs. Simon had illegally removed her husband from the nursing home, which was not the case.
The judge noted in his decision that Veara and Nissenbaum filed motions barring the wife's access to bank and investment accounts and attempting to have the marriage annulled. He stated that they talked of paying off the wife's lawyer if he settled, charged for duplicitous work and did not act in the interest of Simon, who died on Nov. 2, less than three months after Veara's appointment as guardian.
According to the decision, Veara charged $400 an hour for the work, at least $100 more per hour than his highest rate, even though he had no experience being a guardian, and even though Nissenbaum's firm did the legal work. The two lawyers billed the estate approximately $80,000 for taking depositions, $60,000 of it for deposing Mrs. Simon. Nissenbaum deposed, at $500 per hour, while Veara observed, charging $400 per hour.
"Nissenbaum and Veara wildly spent the ward's money," wrote Judge Steinberg, pointing to the $20,000 spent on a research firm to investigate Simon's wife, $4,000 to draw up a new estate plan and $6,000 to prepare complaints to sue the wife in Superior Court. "Veara and Nissenbaum did not present any evidence that [Simon] would have consented to these expenses had he been aware of them," he wrote.
"Nissenbaum and Veara made this litigation unnecessarily hostile which increased fees. Their strategy from the beginning of the litigation was to remove Mrs. Simon from the picture…The fact that Nissenbaum and Veara hatched a plan to get the ward divorced before Veara had even been appointed guardian and before anyone had even spoken to the ward makes clear that the goal of the guardianship was to get rid of Mrs. Simon."
According to the records, the divorce complaint was denied and Mrs. Simon received a settlement in September of 2006. In November a retired judge was appointed to assess the reasonableness of Veara and Nissenbaum's fees. In April, Simon's three children withdrew their approval of the fees.
It was the children who took Veara and Nissenbaum to court over the fees.
Judge Steinberg determined that reasonable fees for Nissenbaum totaled $115,517.72, including out-of-pocket expenses, and that reasonable fees for Veara totaled $21,227.04. He gave them 30 days to pay back the estate.
"The court declines to award Nissenbaum and Veara any fees for the defense of their first and final account as their egregious behavior and outrageous fees necessitated the defense."
Contacted by telephone, Veara said he is appealing the decision to the State Appeals Court. He said he "could fill volumes" commenting on the decision.
"The decision is only the tip of the iceberg," Veara said. "Initially everybody agreed to the accounting, but a local judge chose not to accept [it]." Veara said the judge then named a "hand-picked appeal court judge" to hold hearings, but decided not to accept that judge's approval of the fees. "Dissatisfied, the judge continued and was recused," Veara said. It was then that Simon's children reversed their approval of the fees and rates.
"It's been a long process and it's not over," said Veara.