Ex-Judge Fights Probation Officer's Recommendation to Quadruple His Sentence
"Even if he's successful and beats back every one of the adjustments, the judge would still land in Zone D, level 14, which would require incarceration," said white-collar defense attorney Philip Hilder.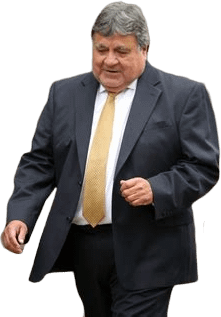 Convicted of judicial bribery and facing sentencing on Sept. 25, former Judge Rudy Delgado is objecting to a probation officer's recommendations to quadruple his potential imprisonment from nearly two years to more than eight.
Delgado on Thursday filed an objection to his presentence report—the actual report isn't open to the public—arguing that a probation officer improperly inflated the value of bribes he accepted to justify a six-level upward adjustment in his sentence. He also claimed there's a two-level upward adjustment for one of his charges, which the sentencing guidelines do not allow for defendants convicted of Delgado's other offenses.
White-collar defense attorney Philip Hilder, who isn't involved in Delgado's case, said that because Delgado was a public official when he committed the offenses, his base offense level for sentencing purposes is 14, which brings between 1.25 and 1.75 years in federal prison.
Hilder reviewed Delgado's objection and noted that it says the presentence investigation report had recommended an additional 14 levels in upward adjustment, which would bring the total offense level to 28. That level brings between six and a half to just over eight years' imprisonment, he said.
"Even if he's successful and beats back every one of the adjustments, the judge would still land in Zone D, level 14, which would require incarceration," Hilder added.
Delgado's objection said that the probation office recommended the upward adjustments because he took more than one bribe, the value of payment was over $6,500, and his convictions included a charge of obstruction of justice. He is attacking those last two factors regarding the bribes' values and the obstruction charge, which amount to eight levels of the adjustment.
If Delgado successfully knocks off eight levels, he'd still face between 2.75 and 3.4 years in prison, noted Hilder, a principal in Hilder & Associates in Houston.
A federal jury on July 11 found that Delgado, when he was judge of Hidalgo County's 93rd District Court, took bribes from Edinburg attorney Noe Perez in exchange for favorable rulings such as granting personal bonds for release from jail, dismissing charges or dismissing whole cases. Usually, the bribes were for $250, although once it was for $5,500, and another time, the lawyer gave Delgado a truck worth $15,000.
Delgado plans to appeal his convictions of conspiracy to commit bribery concerning programs receiving federal funds, obstruction of justice, three counts of federal program bribery and three counts of Travel Act violations.
Value of bribes
Delgado argues that Perez paid him cash bribes to grant clients personal recognizance bonds, but rather than using that as the bribes' values in the presentence investigation report, a probation officer used the much higher value of the personal recognizance bonds.
The former judge wrote that he thinks the probation officer valued the bribes at $45,500, comprised of eight bribes involving one $15,000 truck, four separate $5,000 personal recognizance bonds, one $10,000 bond, and two $250 cash bribes.
The evidence suggested that Perez paid Delgado at most $5,760 in bribes, purchased firewood, and more, the objection claimed. If the probation officer used that amount as the value of the bribes, then the six-level upward adjustment that was recommended would not apply, he claimed.
"In the defendant's view, the 'value' of a PR bond is impossible to calculate, and the probation office's use of the face amounts of these 'personal recognizance' bonds is without substantive support or reasoning," the objection said.
Angela Dodge, a spokeswoman for the U.S. Attorney's Office for the Southern District of Texas, which prosecuted Delgado, didn't immediately return an email seeking comment. Delgado's criminal defense attorney, Michael McCrum, owner of the McCrum Law Office in San Antonio, didn't return a call or email seeking comment before deadline.