LIT COMMENTARY
February 10, 2020
A federal judicial ethics committee sent a draft opinion to federal judges this month that cautioned judges against becoming members of the Federalist Society, a group for conservative lawyers.
The group, led by Leonard Leo, has advised the Trump administration on the majority of judicial appointments.
The draft opinion said that judges should not join the organization since it could bring their neutrality into question.
Federalists and conservatives, as expected, bemoaned the draft opinion as outrageous and have been saturating the media with their biased views.
Yet the Federalist Society's total influence in judiciary appointments, especially since Trump won office and Mitch McConnell gloated at a recent Federalist Society meeting how they "won't leave a single [judicial] vacancy" for the democrats is undeniable. The appointment figures prove that beyond a reasonable doubt.
An example of the Federalists media PR machine is to respond by sending out young and eager recruits to write partisan articles like the one by Nathan Kinard.
Here's some of Kinards' childlike arguments;
"It should not matter much that the Federalist Society is composed of conservatives and libertarians. Were that enough to make a judicial member seem partial, it would also raise ethical concerns for a judge to be a member of a Southern Baptist or Unitarian Universalist church."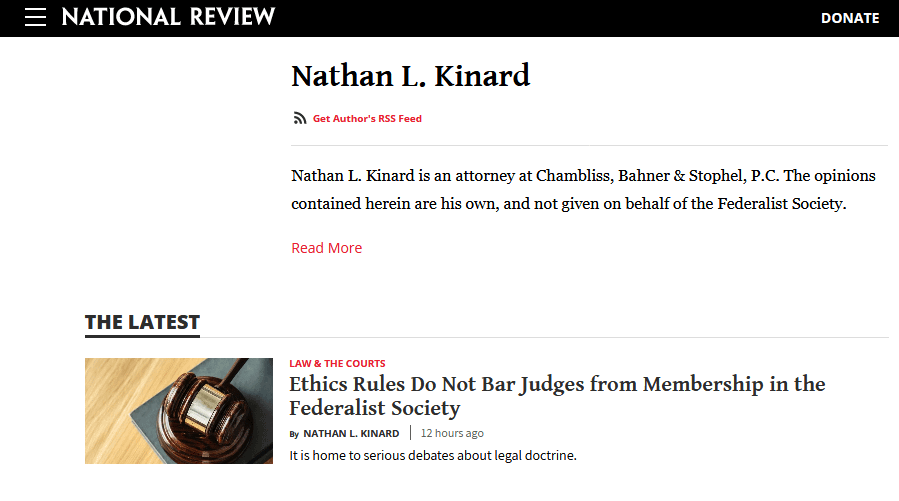 The solitary article for the National Review by Kinard reeks of an "influencer"-style propaganda posting.
"I found the controversy surrounding the Federalist Society to be good fodder for jokes."
"I serve as the president of the Federalist Society chapter in Chattanooga and have attended the "FedSoc" National Convention several times."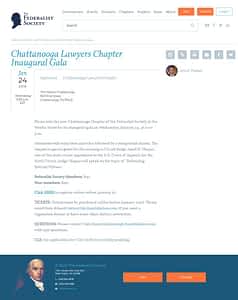 The only mention of Kinard on the FedSoc website is an event where you provide Kinard with your menu requirements.
"The Federalist Society is not a shadowy, suspicious cabal carrying water for "big business" or the Republican party."
It is quite clear to LIT that Kinard is a nonentity who is fronting for the Federalist Society and has been volunteered to write a partisan article for @FedSoc in the National Review.
Clumsy Kinard claims to be "President of the local chapter in Chattanooga" but he doesn't even have a Federalist Society bio, unless you call a page where he's listed as the main man to contact about your dietary requirements for a planned chapter event as being the role of Chapter President.
Kinard also claims to be this high-flying legal associate based on his firms' bio, but yet we cannot find this legal beagle ever being first chair in a law suit as claimed.
What we did find is a damning account by the Court of Appeals of Tennessee in a case from 1975, in what appears to be founding law partner Chambliss appealing a lower court decision, where he tried to extort fees for work he never performed. The court opined;
In conclusion, we think that Attorney Chambliss himself has identified the problem giving rise to this suit, when in response to a letter from Attorney Foster to him on May 5, 1972, seeking a re-allocation of the fees, he advised, "If the bargain you made was a bad bargain, then so was ours."

The assignment of error is overruled and the judgment of the Trial Court affirmed.
We have two words for Nathan Kinard. "We rest."
Lyin' Pryor: "Any allegation that calls into question the correctness of an official decision or procedural ruling of a judge –without more– is merits-related"

Fact: "The Greens obtaining access to the documents denied to the Burkes is defined as – MORE" https://t.co/E2yT5V6Cj6 https://t.co/ptkLufko38

— LawsInTexas (@lawsintexasusa) February 2, 2021