ORDER
Plaintiff Steven E. Dempsey filed his Original Petition and Request for Temporary Restraining Order in Texas state court. (Petition, Doc. 1-1, 8) He brought suit against Defendant Deutsche Bank National Trust Company and against Julie Martin, as substitute trustee. (Id. at 8—9) Defendant Deutsche Bank National Trust Company removed to federal court (Notice of Removal, Doc. 1) and now moves to dismiss pursuant to Federal Rule of Civil Procedure 12(b)(6). (Motion, Doc. 4)
Dempsey had until November 16 to file a response in opposition to the Motion to Dismiss. He did not. Instead, he filed a Motion to Remand (Doc. 5), which did not address the pending Motion to Dismiss. The Court denied the Motion to Remand. (Order, Doc. 10)
The Court considers Dempsey's failure to file a Response to the Motion to Dismiss as an indication that Dempsey agrees to the relief that Deutsche Bank requests. See S.D. Tex. L.R. 7.4 ("Failure to respond to a motion will be taken as a representation of no opposition."). In addition, Deutsche Bank presents arguments demonstrating its entitlement to dismissal of Dempsey's causes of action.1
As a result, it is:
ORDERED that Defendant Deutsche Bank National Trust Company's Motion to Dismiss
Pursuant to Federal Rule of Civil Procedure 12(b)(6) (Doc. 4) is GRANTED; and
ORDERED that all of Plaintiff Steven E. Dempsey's causes of action against Defendants Deutsche Bank National Trust Company and Julie Martin, as substitute trustee, are DISMISSED WITH PREJUDICE.
The Clerk of Court is directed to close this matter. SIGNED this 17th day of December, 2020.
Fernando Rodriguez, Jr.
CIVIL ACTION NO. 1:19-CV-113
11-12-2020
---
ORDER ADOPTING REPORT AND RECOMMENDATION
In February of this year, the Court dismissed Plaintiff Andrea Garcia's causes of action for failure to state a claim. (Order, Doc. 20) In that Order, the Court requested that Garcia's counsel, Juan Angel Guerra, show cause why he "should not be sanctioned for the repeated filing of meritless complaints, as detailed in the adopted Report and Recommendation." (Id.) Counsel failed to do so.
In April, the Court ordered Guerra to pay $10,936.92 in sanctions to Defendants Metropolitan Life Insurance Company and Bayview Loan Servicing, LLC. (Doc. 23).
In July, Defendants filed their Motion for Contempt because Guerra failed to pay the sanctions and continued to file lawsuits similar to this one, which led to the imposed sanctions. (Motion for Contempt, Doc. 27) Defendants request additional fees and costs incurred in attempting to collect the imposed sanctions and in filing the Motion for Contempt. (Id.) Guerra has responded to the Motion for Contempt, and moved to dismiss the sanctions order. (Motion to Dismiss, Doc. 30)
The United States Magistrate Judge issued a Report and Recommendation (Doc. 34) recommending that the Motion for Contempt be granted and that the Motion to Dismiss be denied. No party filed objections. 
As a result, the Court ADOPTS the Report and Recommendation (Doc. 34), although the Court modifies the sanctions that the Defendants requested and that the Magistrate Judge recommended. It is:
ORDERED that Juan Angel Guerra's Motion to Dismiss Sanctions Order (Doc. 30) is DENIED; and
ORDERED that Defendants' Motion for Contempt (Doc. 27) is GRANTED IN PART AND DENIED IN PART. The Court will specify the additional sanctions imposed against Juan Angel Guerra in an Amended Order Imposing Sanctions.
SIGNED this 12th day of November, 2020.
/s/_________
Fernando Rodriguez, Jr.
United States District Judge
Ex-DA known for pulling stunts gets arrested, then let go
SEPT 6, 2013 | REPUBLISHED BY LIT: APR 15, 2021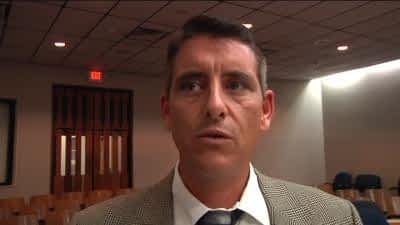 Texas lawyer Juan Angel Guerra is no stranger to the law, both sides of it.
The former Willacy County district attorney was escorted in handcuffs into a Cameron County courtroom after their DA's office issued a Writ of Attachment for him.
"The judge ordered his arrest since he didn't show up to court last week," said Assistant DA Matthew Kendall.
Court records show that case is is civil forfeiture lawsuit filed in the 404th State District Court back in July 2009.
Before the judge entered the courtroom, Guerra said to his attorney that he didn't have to be in court for that and he was in his right not to show up.
But when Judge Elia Cornejo Lopez took the bench, his attorney took over promising his client would be at the next scheduled court appearance.
"This is a very serious matter," Judge Lopez told Guerra and his attorney Florencio Lopez.
There is a large sum of money involved in a ponzi scheme case that Guerra was a defense attorney in.
It's unaccounted for and that is why the court has requested more from Guerra including documentation of funds he collected during the time he represented the defendant in that case.
"It's about $150,000 that is owed," said Kendall.
Nobody seems to be sure where the money.
"Everybody wants to know where the money is," Guerra's defense attorney said. "We are going to provide our accounting."
Judge Lopez made it clear that Guerra cannot disappear again and must hand over written documentation of where he resides since he was found near Houston today, but claims to live in Sebastian.
He complied and asked for a personal recognizance bond which is when his past came back to haunt him.
"When he was in trouble in Willacy County, he was ordered to stay in town and he went to Mexico, took pictures and told the sheriff to arrest him,"
said Kendall.
Guerra also set up a mobile home and goats outside the sheriff's office to pressure them into arresting him since he called the investigation against him at the time a joke.
He assured the judge in this court he wouldn't pull any stunts this time.
Guerra has to appear again in 21 days and produce the documents about the money within that time.
Trio wins lawsuit against former Willacy County DA
JAN 23, 2010 | REPUBLISHED BY LIT: APR 15, 2021
BROWNSVILLE — A former south Texas district attorney and two other public officials won a $335,000 verdict Friday against another former DA after successfully arguing that he violated their civil rights by having them arrested in 2007.
The verdict in federal court in Brownsville culminates a years-long feud that U.S. District Judge Andrew Hanen said after the trial did not serve anyone.
On one side was former Willacy County District Attorney Juan Angel Guerra, who lost the verdict.
On the other was Gustavo Garza, who held the same job at one time but who was acting as an appointed special prosecutor investigating Guerra on various allegations, including that Guerra was abusing the grand jury process, when the arrests were made.
Co-plaintiffs Raymondville Police Chief Uvaldo Zamora and former Willacy County Sheriff's Chief Deputy David Martinez will share in the compensatory and punitive damage awards. The total hit to Guerra was expected to rise with the awarding of attorneys' fees, but after the trial he made it clear it was not over.
"I don't think that this verdict is going to stand," said Guerra, adding that he would file motions to overturn it and request a new trial.
Other lawsuits also await, including one in Hanen's court in which Guerra is suing Garza and several others. Hanen urged both sides to try to reach at least an "uneasy peace."
"It doesn't serve you all and it doesn't serve the people of Willacy County by having you at each other's throats,"
Hanen said after releasing the jury, which deliberated for nearly three hours before returning the unanimous verdict.
Garza was appointed special prosecutor to investigate allegations that Guerra was trying to use the grand jury process to get even with his enemies. Guerra was never charged with abusing the grand jury process, but he was indicted on several other charges, including extorting a bail bond company and using his office for personal business.
Those indictments were later dismissed.
During the investigation, Guerra had Garza, Zamora and Martinez arrested. Garza and Zamora were accused of obstruction and retaliation for interfering with a grand jury in the course of their investigation. Martinez was accused of giving a false statement during the investigation into Guerra.
In their lawsuit, Garza, Zamora and Martinez alleged that Guerra fabricated the affidavits that convinced a justice of the peace to issue the arrest warrants against them.
At the heart of the case is a long-running feud between Guerra and seemingly every other public official in Willacy County. Guerra conceded that he did not get along with his government counterparts, over the years having sought indictments against many of them. The reason for the friction was his unwillingness to turn a blind eye to official corruption, he said.
Horacio Barrera, Garza's attorney, called Guerra egomaniacal, somewhat delusional and paranoid.
"This case is about [Guerra] retaliating and getting even," Barrera said.
In one of his final moves as district attorney in 2008, Guerra got indictments against a number of people, including a state senator, former U.S. Attorney General Alberto Gonzalez and then-Vice President Dick Cheney, alleging responsibility for prisoner abuse in a south Texas federal detention center. The indictments were later dismissed.
During this week's trial, Guerra served as his own attorney and as a witness. He told the jury he had no regrets about getting the warrants against Garza, Zamora and Martinez. He also cautioned jurors that ruling against him would send a message to district attorneys around the state that they should not go after the powerbrokers in their counties.
"I love my little county," he said. "That's why I did what I did."
After the trial, Guerra noted that his successes usually come on appeal, not in front of a jury.
"I'm not surprised [at the verdict] because my character doesn't play well with the average juror," he said.