On Friday, 25th October, the Eleventh Circuit Denied the Intervenors Motion to Stay
Friday, 25th October, 2019 – After Initial Brief Filed on 24th, the following Order was issued by Judge Beverly B. Martin ('BBM')
ORDER: Appellants' motions to stay further appellate proceedings until the matter of the CFPB's Constitutionality is answered by the U.S. Supreme Court are DENIED. Appellants' alternative request for a stay of (90) days is GRANTED. Appellants' brief is due January 27, 2020.
RECENT HISTORY OF MOTIONS AND BRIEFS FILED BY THE INTERVENORS
Motion to Stay LOWER Court Proceedings filed on Sunday, 7th October, 2019
History confirms the lower court has failed in its analysis of the CFPB, a self-serving decision when the Attorney General for the United States could have – and should have – been invited to help answer the question of the CFPB's constitutionality. As a result, the Burkes need assistance from the appellate court to stop any further damaging Orders being released while their case is before this court.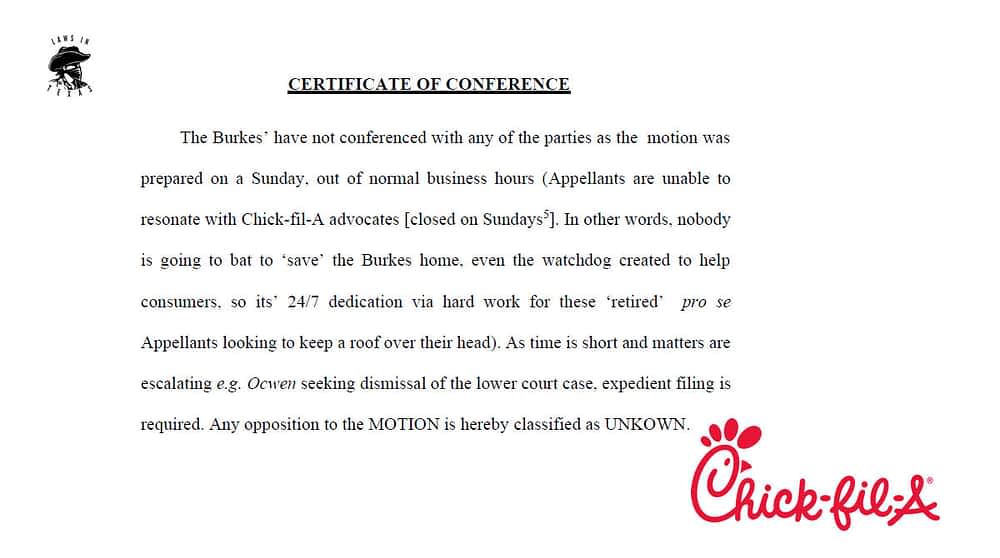 Motion to Stay Appellate Court Proceedings filed on Sunday, 13th October, Date Stamped Tues. 15th Oct.
Due to the CFPB's constitutionality question etc, the Burkes sought to stay the case for 9 months (the expected timeline for the Supreme Court to rule on the current Selia Law case before it) or in the alternative 90 days to file the initial brief.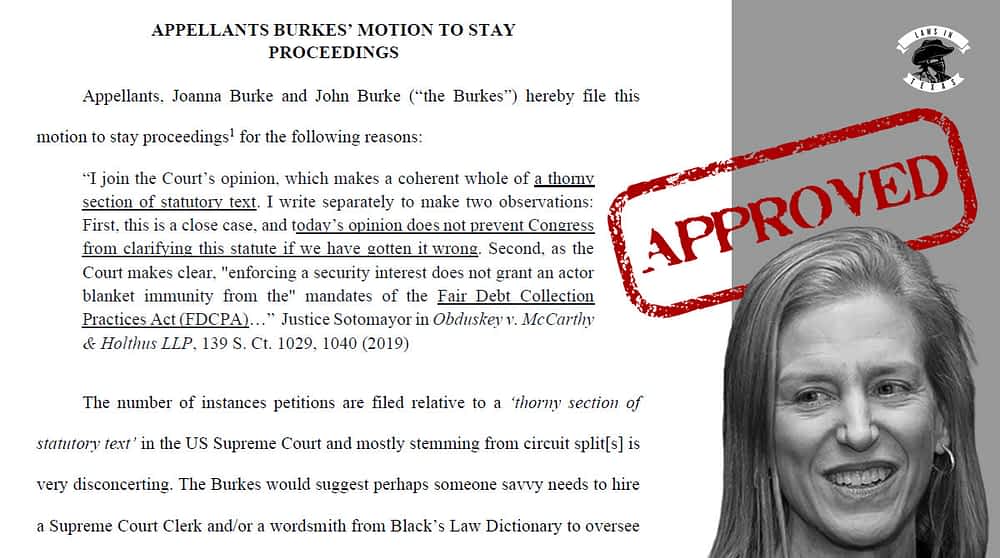 The Initial Brief was Filed to Ensure it Was Timely. It was due 24th October, 2019 and Filed 24th October, 2019.
"The Burkes have formally requested that both this appeal and the lower court proceedings be stayed while the US Supreme Court considers the petition of Selia Law (#19-7) which brings into question both the Dodd-Frank Act and the CFPB. At the time of this filing the Burkes motions remain unanswered.