LIT COMMENTARY
Hometown Judges Carl Stewart and Edith Clement support corrupt and  failed Louisiana Bank a reversal in an opinion with a dissent from Houston Judge Gregg Costa. Meanwhile, at the bank, the fraud by the executive(s) has been rampant since the collapse after the financial crisis.
Interestingly, Costa was one of the two judges Clement recently attacked in a partisan tirade as per LIT's article.
Department of Justice
U.S. Attorney's Office
Eastern District of Louisiana
---
FOR IMMEDIATE RELEASE
Wednesday, September 2, 2020
Developer Admits to Conspiring with First NBC Bank President to Defraud First NBC Bank
Ashton Ryan, Corrupt Bank CEO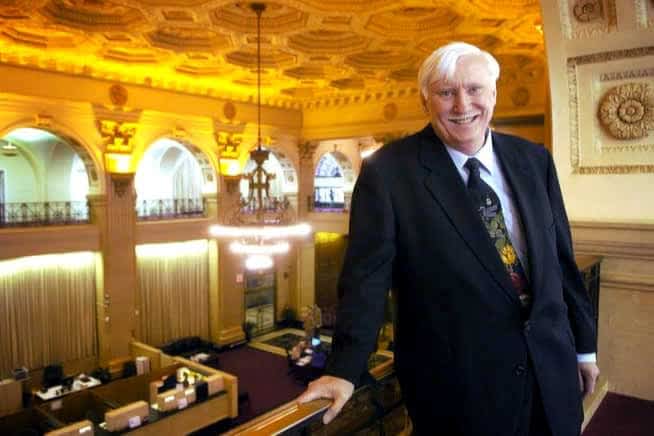 NEW ORLEANS – The United States Attorney's Office announced that WARREN G. TREME ("TREME"), age 55, a resident of Metairie, Louisiana, pleaded guilty today to conspiracy to defraud First NBC Bank, the New Orleans-based bank that failed in April 2017.
According to court documents, from in or around 2008 through April 2017, TREME had a banking relationship with First NBC Bank, individually and through various entities he controlled.
TREME also co-owned several entities with Ashton J. Ryan ("Ryan"), President of First NBC Bank.
Because of this conflict of interest, Ryan should not have been involved with TREME's loans.
However, Ryan exercised authority over TREME's loans with William J. Burnell ("Burnell"), the Bank's Chief Credit Officer.
Throughout TREME's borrowing relationship at First NBC Bank, TREME lacked sufficient income and cash flow from his businesses to pay his loans and personal expenses.
Ryan and Burnell disguised TREME's true financial condition by making new loans to pay TREME's existing loans.
TREME is the third person to be charged for defrauding First NBC Bank through a business relationship with Ryan, while hiding the fraud from the Bank's Board, auditors, and examiners.
Jeffrey Dunlap, a contractor on Ryan's project with TREME, has already pled guilty to conspiring with Ryan to fund both that project and his lifestyle by defrauding the Bank.
More recently, Arvind "Mike" Vira was charged with conspiring to defraud the Bank, with Ryan's help, by submitting false financial documents to the Bank while Ryan was personally borrowing from Vira.
In addition, on July 10, 2020, a grand jury indicted Ryan, Burnell, First NBC Executive Vice President Robert B. Calloway, and borrower Frank J. Adolph for their roles in the conspiracy to commit bank fraud against First NBC, including fraud involving the TREME loans.
Court documents further describe a scheme by Ryan and Burnell to take $400,000 from TREME's business partners as part of a settlement.
Rather than using the $400,000 to pay down an outstanding loan debt owed by TREME and his business partners, Ryan and Burnell gave $300,000 to TREME.
TREME spent the money on gambling, a trip to the Caribbean, and expenses related to a real estate development company TREME co-owned with Ryan.
During a subsequent Board meeting, Ryan and Burnell falsely stated that the $300,000 was used to pay down the outstanding loan debt owed by TREME and his business partners.
"The FBI and our law enforcement partners have dedicated significant time and resources toward investigating the failure of FNBC, which resulted in nearly a billion dollar loss to the FDIC.
Individuals like Mr. Treme who engage in fraudulent schemes that impact the security of financial institutions are being held accountable.
His guilty plea today should be a deterrent to others who would attempt to defraud our nation's banking system,"
said Bryan Vorndran, FBI New Orleans Special Agent in Charge.
"We will hold accountable those wrongdoers whose fraudulent actions materially impact financial institutions regulated and supervised by the Federal Reserve Board. I commend our agent and law enforcement partners for their hard work that ultimately led to today's guilty plea,"
said Stephen Donnelly, Acting Special Agent in Charge, Eastern Region, Office of Inspector General for the Board of Governors of the Federal Reserve System and the Bureau of Consumer Financial Protection.
"We are pleased to join our law enforcement colleagues in bringing Mr. Treme to justice," stated Laurie Younger, Special Agent in Charge of the Federal Deposit Insurance Corporation, Office of Inspector General.
TREME pleaded guilty to one count of conspiracy to commit bank fraud, in violation of Title 18, United States Code, Sections 1344 and 1349.
The maximum penalties that may be imposed upon conviction are thirty years in prison; a fine of $1,000,000, or the greater of twice the gain to TREME or twice the loss to any victim; up to five years of supervised release; and a $100 mandatory special assessment.
Judge Sarah S. Vance set TREME's sentencing on January 6, 2021, at 10:30a.m.
This case is being investigated by the Federal Bureau of Investigation; the Federal Deposit Insurance Corporation, Office of Inspector General; and the Board of Governors of the Federal Reserve System, Consumer Financial Protection Bureau, Office of Inspector General. Assistant U.S. Attorneys Sharan E. Lieberman, Nicholas D. Moses, Matthew R. Payne, and J. Ryan McLaren are in charge of the prosecution.
Unconstitutional Senior Judge Clement Allowing perjury to be committed before the Fifth Circuit by Hopkins when they filed a certificate of conference stating that they contacted the Burkes and the Burkes did not reply – when in fact Hopkins did not contact the Burkes. pic.twitter.com/FCqSWrfMCQ

— LawsInTexas (@lawsintexasusa) August 5, 2020
First NBC Bank's Ashton Ryan to step down as CEO amid financial woes
Originally Posted: Dec 6, 2016 | Republished by LIT; Oct 28, 2020
First NBC Bank said Tuesday (Dec. 6) that founder Ashton Ryan will step down from his post as CEO, handing the reins of the troubled bank to board chairman Hermann "Buck" Moysee III under a proposed leadership restructure plan.
The plan, which needs regulatory approval, is the latest step to shore up one of New Orleans' largest local banks as it faces deepening financial woes.
The problems stem from First NBC Bank's tax credit business, which for years fed its growing profits. More recently, the tax credits have spurred questions from regulators about the bank's capital levels, earnings and overall accounting.
First NBC leaders are now weighing options for the future of the bank, including raising capital or a possible sale.
First NBC shares were down 2 percent to $7.45 in Tuesday morning trading on the Nasdaq stock exchange.
Ryan, a prominent New Orleans banker, founded First NBC in 2006, attracting investment from the city's wealthy elite, including pro football's Manning family.
The bank's name was a play on the old First National Bank of Commerce, which Ryan led for seven years until it was acquired in 1998 by Bank One.
An accountant by training, he worked for two decades with the local office of Arthur Anderson & Co., rising to the level of partner before entering the banking industry.
Ryan will continue as First NBC president and serve as a board member, stepping down as CEO once regulators approve the leadership changes.
Moyse, the bank's current chairman and a director since its founding, will serve as interim CEO until the bank finds a permanent chief executive.
The bank has hired consultant Chrisman & Co. to help with the selection process, according to a news release.
In addition, First NBC Chief Compliance Officer Marsha Crowle will take over as interim chief operating officer while bank works to fill that position as well.
The bank said the leadership restructure is "designed to strengthen the company's operations and to best position First NBC for the future."
"First NBC is a valuable New Orleans institution with deep relationships with our customers and the local communities we serve," said Shivan Govindan, board chairman of First NBC Bank Holding Co., the bank's parent company.
"Thanks to Ashton and the rest of the management team's hard work, we believe we have a strong foundation for success and profitability."
The changes come as First NBC grapples with questions linked to its tax credit business as well as souring loans and securities.
For years, First NBC has built a niche investing in local Katrina recovery projects backed by federal and state tax credits.
The business was complex, relying on tax credits — essentially the right to pay fewer taxes in the future — rather than traditional cash flow to boost the bottom line.
Earlier this year, the Federal Deposit Insurance Corp. told the bank it is no longer "well capitalized," a designation that limits the bank's ability to pay interest and take certain deposits.
The Securities and Exchange Commission is also investigating the bank's accounting.
A revised 2015 annual report filed this year revealed souring loans and nearly $60 million in write-downs related to First NBC's tax credit business.
The bank was also late to file its latest quarterly reports, delays that prompted Nasdaq to threaten to delist the company's stock. The bank has until January to submit a plan for getting filings back on track.
The Federal Reserve Bank of Atlanta has also weighed in on the "troubled condition" of the bank, placing limits on the amount of debt it can take on as well as interest and dividends it can pay out.
First NBC entered a consent order last month with the FDIC and the Louisiana Office of Financial Institutions, agreeing to review bank management and draft a comprehensive plan to get the bank's capital levels back up to par and stabilize its business.
Regulators will need to vet the leadership changes announced Tuesday before they can be implemented.
The changes could be a key step as First NBC looks to alleviate regulatory pressure and work on a turnaround plan.
The news release announcing the leadership changes did not comment on next steps, but the bank has said it is looking at "all strategic options" for a bank turnaround, including a possible sale.
Another option on the table is raising capital, though regulatory limits imposed in recent months could pose hurdles.
In the release, Ryan said building First NBC has been the "privilege and highlight of my professional career."
"As we begin the transition to the next chapter in First NBC's history, I have great confidence in the company and I am committed to supporting a seamless transition," Ryan said.
First NBC Bank is New Orleans' largest bank by assets, with more than $4.9 billion in total assets. The bank has 34 branches in Louisiana and five in Florida.