Judge Dawn Gentry: Kentucky Supreme Court upholds judge's removal
Originally Published: Dec. 17, 2020 | Republished by LIT: Jan 2, 2021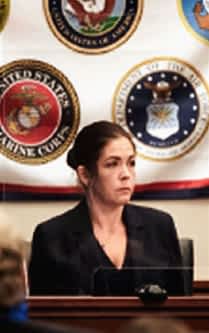 Kenton County Family Court Judge Dawn Gentry testifies in her hearing with the Kentucky Judicial Conduct Commission at the Campbell County Courthouse in Newport, Kentucky on Monday, August 10, 2020.
Gentry's 12 misconduct charges accuse her of using sex, coercion and retaliation as tools in her judgeship. She was suspended – with pay – and even faced an impeachment inquiry from Kentucky lawmakers over the allegations.
Dawn Gentry has officially lost her job.
The Kentucky Supreme Court upheld the removal of Kenton County Family Court Judge Dawn Gentry on Thursday, according to court documents.
Gentry and her attorneys could not be immediately reached for comment.
It's been about a year since Gentry's misconduct case became public. She was accused of using personal relationships, coercion, and retaliation as tools in her judgeship. The case consumed the region as the now-former judge faced a pandemic-derailed impeachment inquiry and a week-long misconduct hearing.
The Judicial Conduct Commission voted to remove the judge from the bench in August after a misconduct hearing in Northern Kentucky. She appealed the case to the supreme court.
In her appeal, the now-former judge argued there were procedural errors with the commission's case, such as sufficient proof and evidentiary matters. She also argued the commission's punishment was not reasonable.
She asked the court to: reverse the commission's decision and to order a new hearing to "remedy the errors present."
The Kentucky Supreme Court did not agree.
Gentry has 20 days to file a petition for rehearing. If nothing is received, the opinion will become final after 21 days, according to a spokesperson from the Administrative Office of the Courts.
What happened?
Gentry became a judge in 2016 when former Republican Gov. Matt Bevin picked her to fill a vacancy. She was elected to an eight-year term in 2018. She made $136,900 a year.
An Enquirer report last year revealed the judge was under investigation. Attorneys at the time told The Enquirer Gentry retaliated against those who denied her sex and campaign donations by delaying cases that involved abused children. While the commission did not criticize Gentry's final rulings, it said her misconduct was too great for her to keep her job.
More:Judge Dawn Gentry case: Who is Katherine Schulz, Stephen Penrose, others involved in case
"This case does not involve one or two isolated occurrences, but instead involves a pattern of misconduct and repeated exercise of extremely poor judgment – on and off the Bench – by the Respondent that continued for over a year, including after Respondent was informed that a complaint was filed with the Commission against her," the commission wrote in its decision.
It found her guilty on 10 of the 12 misconduct charges.
What happens next?
It will be up to Gov. Andy Beshear to fill the vacancy.
The new judge would serve until 2022 when all judges are on the ballot. Then, he or she would have to launch a campaign to be elected to an eight-year term.