Preamble
The Burkes were  Plaintiffs-Intervenors-Applicants in the lower court case of CFPB v Ocwen in SD Fl. District Court but were wrongly denied intervention and the case is currently on appeal by the Burkes at the 11th Circuit. Last Sunday, the Burkes submitted a motion to stay the lower court proceedings along with a motion to take judicial notice which are currently pending at the 11th. They also submitted their motion to stay to the lower court which was denied yesterday, 10/10/2019 by Judge Marra (shock, horror).  This week the Burkes have been waiting for movement at the Supreme Court and in the interim, Alison Frankel at Reuters has provided a timely update, which is provided below.
"As this [US Supreme] Court has held, "[a]n unconstitutional act is not a law"; rather, "it is, in legal contemplation, as inoperative as though it had never been passed." Norton v. Shelby Cty., 118 U.S. 425, 442 (1886). Where the entity does not "legally exist[ ]," then "no validity can be attached" to its acts. Thus, a lawful entity "[can]not ratify the acts of an unauthorized body."" – p. 22 All American Check Cashing Inc., et al v CFPB, ("All American") Petition pending with the US Supreme Court, 30 Sept., 2019 – discussing "Meaningful Relief".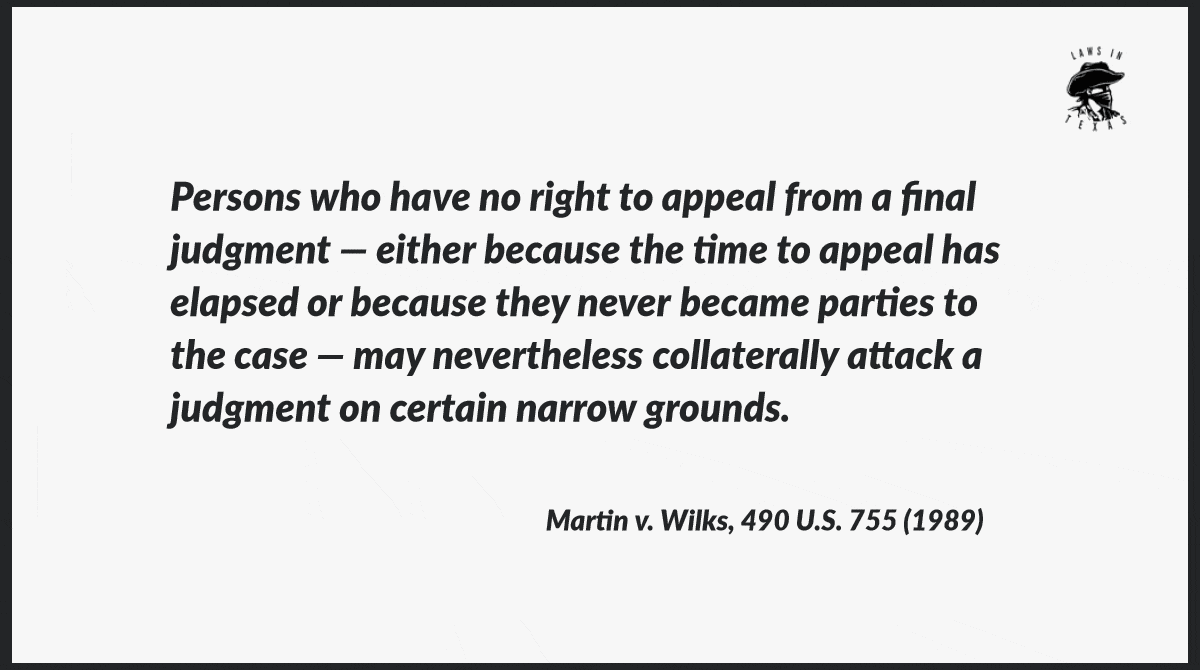 "The Supreme Court recognized that its holding in Martin that non-parties to a consent decree could challenge its allegedly discriminatory impact would not apply to persons who, even though they were not parties themselves, were "represented by someone with the same interests, who is a party." 490 U.S. at 762 n. 2, 109 S.Ct. at 2184 n. 2. The Supreme Court's decision in Martin v. Wilks thus applies only when the non-party's interests have not been adequately represented by an existing party. United States v. Yonkers Board of Education,902 F.2d 213, 218 (2nd Cir. 1990)."  – Rafferty v. City of Youngstown, 54 F.3d 278, 281 (6th Cir. 1995)
In case against Ocwen, a sign of turmoil to come for CFPB
I told you this was going to happen.
Last month, after the Consumer Financial Protection Bureau filed a brief at the U.S. Supreme Court arguing that its own director was appointed under an unconstitutional provision, I predicted that the bureau's abandonment of its longstanding defense of its own constitutionality was going to affect the CFPB's entire mission.
Now we're beginning to see the first ripples from the CFPB's new position. And if the Supreme Court didn't already understand the urgency of resolving the future of the federal agency that's supposed to make sure consumers aren't being ripped off by financial institutions, new developments in the CFPB's sweeping case against the mortgage servicer Ocwen should set off alarm bells. The justices are scheduled to conference this Friday on a petition by the California debt resolution firm Seila Law, which is challenging the constitutionality of the CFPB's structure. The Ocwen litigation shows the uncertainty that will cloud CFPB litigation if the justices punt.
Here's the background on the Ocwen case. The CFPB brought an enforcement action against Ocwen in 2017, seeking an injunction and money damages for mortgage servicing violations on thousands of loans. Ocwen's lawyers at Goodwin Procter moved to dismiss the case, arguing, among other things, that the CFPB's structure is unconstitutional because its omnipotent director can only be fired for good cause, allegedly in violation of separation of powers doctrine. (Ocwen's lawyers did not respond to my email about the case.)
On Sept. 5, U.S. District Judge Kenneth Marra of West Palm Beach mostly denied Ocwen's dismissal motion. The judge rejected the mortgage servicer's constitutional argument, citing rulings in which the District of Columbia and 9th U.S. Circuit Courts of Appeal held that the CFPB's structure does not violate separation of powers doctrine.
Judge Marra's decision came before the CFPB changed its position and decided that its structure is unconstitutional. So late last week, Ocwen asked Judge Marra to reconsider his ruling in light of the CFPB's new position – and its filing makes clear just how perilous this constitutional question could turn out to be for the CFPB.
As you surely recall, the Justice Department and the CFPB said in their joint brief encouraging the Supreme Court to take up the issue of the CFPB's constitutionality that there's an easy fix for the law's defect: The justices need only sever the provision insulating the CFPB director from accountability to the president and strike the language mandating that the director can only be removed for good cause. The government portrayed the separation-of-powers issue as a problem that can be solved without any disruption to the CFPB's work.
The new Ocwen motion shows that the CFPB's targets have a drastically different view of the implications of the CFPB's allegedly unconstitutional structure. The brief argued that if the CFPB is unconstitutional, as the bureau itself now concedes, its sweeping case against the mortgage servicer must be dismissed in its entirety.
Ocwen contends that under the Supreme Court's holding in 2018's Lucia v. Securities and Exchange Commission, a party that raises a constitutional challenge to federal agency action is entitled to meaningful relief if it wins. And under 2010's Free Enterprise Fund v. Public Company Accounting Oversight Board and 1995's Ryder v. U.S., Ocwen argued, when an agency's director has been appointed under an unconstitutional provision, the director does not have the authority to bring an enforcement action. Therefore, according to Ocwen, it is entitled to nothing less than the dismissal of the CFPB's case, with prejudice.
The CFPB did not respond to my email requesting comment on Ocwen's motion for reconsideration or the mortgage servicer's argument that the agency's case must be dismissed now that the CFPB has conceded that its appointment provision is unconstitutional.
The Supreme Court was presented with similar arguments just a week ago from another CFPB target, the payday lender All American Check Cashing, in a petition asking the court to hear All American's case instead of or in addition to the Seila Law case. All American's lawyers at Gibson Dunn & Crutcher argued that Seila's petition does not present the question of an appropriate remedy; Seila's lawyers at Paul Weiss Rifkind Wharton & Garrison responded in a brief Friday that argues the Seila case is an ideal vehicle for both the constitutional and remedy questions.
Both All American in last week's Supreme Court petition and Ocwen in the motion for reconsideration argued that the Supreme Court would itself be violating separation-of-powers doctrine if it were simply to sever the appointment provision of the Consumer Financial Protection Act, which is itself part of the Dodd-Frank financial reform law. Congress clearly intended for the CFPB director to be insulated from accountability to the president, they argued, so the Supreme Court would be defying lawmakers' will if it were to attempt to rewrite the statute.
On the other hand, the 5th Circuit ruled just last month in Collins v. Federal Housing Finance Agency that the cure for a statute that unconstitutionally insulates the head of a federal agency is severance of the flawed appointment provision – not invalidation of all actions by the improperly-appointed director. (The plaintiffs who challenged the FHFA's constitutionality, shareholders of Fannie Mae and Freddie Mac, have asked the Supreme Court to take their case to decide the appropriate remedy.) It's also worth noting that when Justice Brett Kavanaugh sat on the D.C. Circuit, he opined that severing the appointment provision would remedy constitutional flaws in the appointment provision.
It's way too soon to predict how the Supreme Court will ultimately resolve questions about whether the CFPB's structure is unconstitutional and, if so, how to fix the defect. But it's time for the court to take on those questions.
Wednesday, October 16th, 2019
Movement in the Eleventh Circuit, Ms Rose-Smith just added herself to the Appeal….who is she? A lawyer for OCWEN.
Sabrina Rose-Smith is a partner in Goodwin's Financial Industry and Consumer Financial Services Litigation practices.
Her nationwide practice includes both defending financial institutions against consumer class actions and government enforcement actions, and regulatory compliance counseling for banks, credit card issuers, mortgage lenders and specialty finance companies.
She is the lead editor of two firm blogs: LenderLaw Watch and Consumer Finance Enforcement Watch.
Goodwin's LenderLaw Watch blog monitors, chronicles and analyzes news and legal issues affecting clients and others in the consumer finance industry; Goodwin's Consumer Finance Enforcement Watch blog is the marketplace's first resource for real-time reporting on the full range of public federal and state consumer finance enforcement activity. She also serves as chair of the firm's Committee on Racial and Ethnic Diversity.
Ms. Rose-Smith defends financial services clients in cases involving the Truth In Lending Act (TILA), the Fair Debt Collection Practices Act (FDCPA), the Real Estate Settlement Procedures Act (RESPA), the Fair Housing Act (FHA), the Equal Credit Opportunity Act (ECOA), the Financial Institutions Reform, Recovery, and Enforcement Act of 1989 (FIRREA), the Telephone Consumer Protection Act (TCPA), state and federal unfair and deceptive trade practices (UDAP) statutes and other alleged violations of law arising from her clients' lending, servicing and/or collections activity.
Ms. Rose-Smith serves as Chair of CRED@Goodwin.
AREAS OF PRACTICE
Consumer Financial Services Enforcement + Government Investigations
EXPERIENCE
Her areas of experience include:
Class action defense, including successful methods for defeating class certification in both consumer finance and business litigation matters involving banks and other financial services businesses
Assisting financial institutions in the creation and licensing of new specialty finance products, such as debit and stored value cards, installment loans and money transmission
Developing and implementing effective internal compliance auditing procedures for financial institutions and counseling on problems that may arise in external government audits
She has recently represented:
A nationwide mortgage lender in a government enforcement action based on alleged failure to comply with Federal Housing Administration guidelines for FHA – insured loans
A national bank in a lawsuit alleging systemic violations of the Fair Housing Act
A venture capital firm in a nationwide class action alleging that a company the firm invested in committed unfair and deceptive trade practices in the marketing and servicing of small dollar loans
A mortgage lender in a class-wide federal jury trial involving lender's alleged violations of RESPA's affiliated business rules
A national bank against civil claims arising out of its mortgage default servicing activity, including UDAP claims regarding fees charged and breach of contract claims for wrongful foreclosure or the conduct of vendors involved in the foreclosure/collections process
A regional bank regarding its compliance with HUD regulations for FHA lenders and loan servicers
A nationwide lender in a multi-district litigation (MDL) based on alleged unfair and deceptive sales and marketing of loan products
PROFESSIONAL ACTIVITIES
Ms. Rose-Smith is a member of the American Bar Association (Business Law, Litigation and Minority Trial Lawyer sections) and has served on executive committees within NAWL, the National Association of Women Lawyers. She is fellow for the Leadership Council on Legal Diversity (LCLD) and mentor to women and minorities within the firm and the broader legal profession. She is also a District Activist Leader for the National MS Society, and in that role she advocates for individuals with MS and serves as a liaison between elected officials and the National MS Society.
PUBLICATIONS
Ms. Rose-Smith's recent publications include:
"The CFPBs Proposed Prepaid Card Regulations: A Primer," LenderLaw Watch, November 17, 2014
"Plaintiffs Find Little Traction In Suits Against Banks Over "Payday" Loans," LenderLaw Watch, November 13, 2014
"Supreme Court Will Not Review Third Circuit FDCPA Decision," LenderLaw Watch, November 10, 2014
"D.C. District Court Strikes Down HUD's Disparate Impact Rule," LenderLaw Watch, November 6, 2014
"CFPB Spotlight Still On Student Loans," LenderLaw Watch, October 30, 2014
"CFPB Finalizes Mortgage Rules Amendments," LenderLaw Watch, October 27, 2014
"CFPB Takes Action to Enforce New Mortgage Servicing Rules," LenderLaw Watch, October 13, 2014
"Goodwin Procter's Ben Saul Comments On CFPB Enforcement of New Mortgage Servicing Rules," LenderLaw Watch, October 8, 2014
"CFPB Sets Sights On Payday Lending 'Cycle Of Debt'," Law360, March 25, 2014
"Small-Dollar Lenders Under Fire From AGs And CFPB," Law360, February 20, 2014
Ms. Rose-Smith's recent speaking engagements include:
"American Bar Association 2017 Business Law Section Spring Meeting," April 6, 2017, New Orleans, LA
"ACI's 28th National Consumer Finance: Class Actions & Litigation Conference," April 4, 2017, New York, NY
"Payday Loan Bar Association 2016 Annual Meeting," November 9, 2016, Santa Barbara, CA
"Payday Loan Bar Association 2015 Annual Meeting," November 4, 2015, Scottsdale, AZ
"Consumer Protection Agency Limits Payday Lenders: Understanding Proposed Regulation LIVE Webcast," August 26, 2015
"ACI Women Leaders in Financial Services Industry Law," June 15, 2015, New York, NY
"2015 Business Law Section Spring Meeting," April 16, 2015, San Francisco, CA
"LegalTech® New York 2015 ," February 3, 2015, New York, NY
"Payday Loan Bar Association 2014 Annual Meeting," November 9, 2014, Kiawah Island, SC
"The American Lawyer's New Partner Forum," November 4, 2014, New York, NY
GOODWIN PROCTER'S BEN SAUL COMMENTS ON CFPB ENFORCEMENT OF NEW MORTGAGE SERVICING RULES
October 8, 2014
In the article, Saul, who has a nationwide practice representing financial services and individual clients in high-stakes administrative enforcement and criminal matters, noted that the recent consent order almost certainly heralds future enforcement activity, and that the agency's noteworthy requirement that the loan servicer engage in a door-knocking campaign to obtain borrower loan modification paperwork likely would be an onerous and difficult requirement for the servicer.
The Consumer Financial Protection Bureau (CFPB) has entered a consent order with a mortgage bank following CFPB's allegations that the bank violated the new mortgage servicing rules.  CFPB claimed that the bank:
​took an unreasonably long time to process borrowers' applications for loan modifications or other foreclosure relief;
failed to tell borrowers when their loan modification applications were incomplete;
denied loan modifications to qualified borrowers; and,
illegally delayed finalizing permanent loan modifications.
​Under the Dodd-Frank Wall Street Reform and Consumer Protection Act, the CFPB has the authority to take action against institutions for violating the January 2014 mortgage servicing rules, and it also has authority to take action against institutions engaging in unfair, deceptive, or abusive practices. The CFPB order requires the bank to discontinue the practices set forth in the order, pay $27.5 million to borrowers, and pay a $10 million fine.  The CFPB's order also contains some noteworthy additional requirements that mortgage servicers should be aware of, including that the bank:
cease acquiring default servicing rights from third parties until the bank "demonstrates" it can comply with the law during the loss mitigation process;
engage in efforts to help affected borrowers, including a door-knocking campaign and translations services to contact borrowers and offer them loss mitigation options; and,
for borrowers who were previously denied a loss mitigation option, the bank must do an independent review to determine whether the borrower was offered all loss mitigation options for which they qualified.
In remarks about the order, CFPB Director Richard Cordray stated that "The Bureau has been clear that mortgage servicers must follow our new servicing rules and treat homeowners fairly. Today's action signals a new era of enforcement to protect consumers against the cost of servicer runarounds."