LIT COMMENTARY
MAY 9, 2021
LIT's been approached by citizens in the Western District of Texas who are involved in real estate dispute(s) including foreclosure. While we were researching, we came across Judge Royce Lamberth. His name has been in the headlines in D.C. in recent weeks and we were not aware he was also a sitting judge for 2 months of the year in W.D. Tex. Federal Courts – since his change to Senior status. Armed with this information we're posting some snippets of information regarding this poker playin' D.C. Judge who hails from San Antonio, Texas while we prepare our exclusive blockbuster article(s) for these maligned Texas citizens.
Royce Lamberth steps down from court post; outspoken on government incompetence
JUL 16, 2013 | REPUBLISHED BY LIT: MAY 9, 2021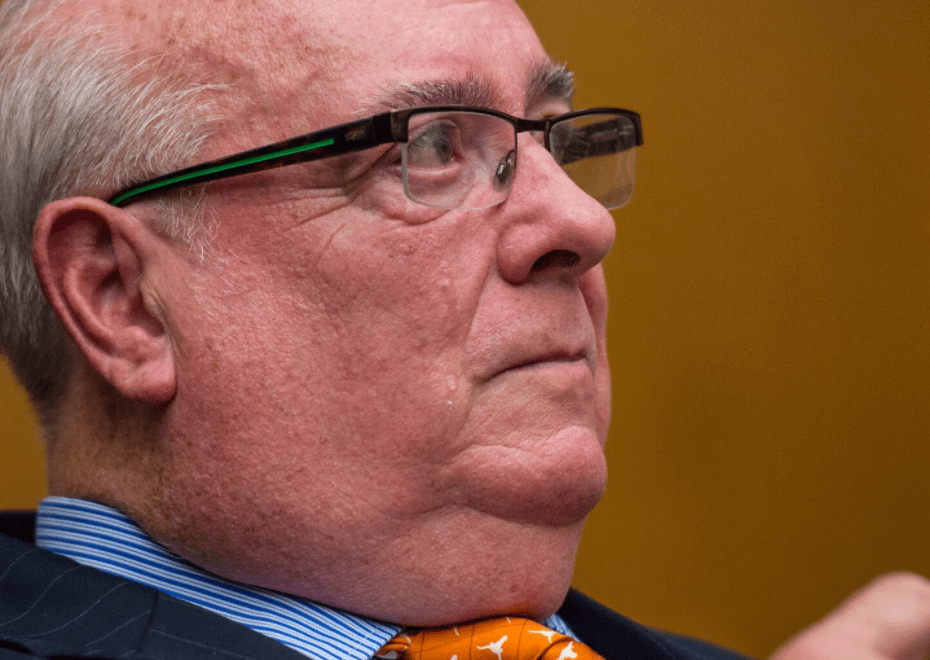 Outgoing Chief Judge Royce Lamberth sheds a tear during a ceremony honoring him for his service at the U.S. District Court for the District of Columbia on Monday in Washington. (Ricky Carioti/The Washington Post)
He's thrown D.C. corrections officials in jail, held Cabinet secretaries in contempt and threatened to cover a defendant's mouth with duct tape. He called a federal agency a dinosaur and city officials bullheaded.
Royce C. Lamberth, a shoot-from-the-hip Texan known for taking a hard line against what he sees as government incompetence, formally stepped down Tuesday as chief judge of the District's federal court.
Lamberth is also known as a genial giant of a public servant, a trusted adviser, and a friend to an extensive network of lawyers, judges and clerks from all corners of the city's legal community.
He plays poker with conservatives on the Supreme Court, including Chief Justice John G. Roberts Jr., and he counts the District's longtime federal public defender, A.J. Kramer, as a close friend.
And since his appointment to the bench by President Ronald Reagan in 1987, Lamberth has had a hand in a long list of cases of national significance.
He oversaw the controversial Foreign Intelligence Surveillance Court after the Sept. 11, 2001, terrorist attacks, and he has ruled on the treatment of Guantanamo Bay detainees and the funding of human embryonic stem cell research.
Lamberth, who turned 70 on Tuesday, was required to resign because of his age. After five years as chief, he passed the gavel to U.S. District Judge Richard W. Roberts, who told Lamberth that he had "left some Texas-sized shoes to fill."
His "low tolerance for incompetence," as his administrative assistant Sheldon Snook put it, comes in part from the importance he places on the role of government service.
Lamberth, the valedictorian at his San Antonio high school, came to Washington during college, where he worked summer nights as a Howard Johnson's waiter and spent his days dropping in on congressional hearings.
He served in Vietnam in the Judge Advocate General's corps and led the civil division of the District's U.S. attorney's office for nine years.
On the bench, he quickly developed a reputation for sending strong messages.
In the 1990s, he jailed two city prison officials after finding that they had retaliated against a female guard who had complained about sexual harassment. The officials had acted "arrogantly" and "bullheadedly," he said.
In the waning days of President Bill Clinton's administration, Lamberth faulted the Environmental Protection Agency, then headed by Carol Browner, for "egregious" inattention when it disregarded his order to retain records on new environmental rules.
U.S. District Judge Amy Berman Jackson made light of Lamberth's use of his contempt powers when she belted out a parody of the tune "My Way" at his celebration.
In recent days, as his transition approached, Lamberth has made a point to defend the FISA court, which has been criticized because it rarely rejects the government's private requests for electronic surveillance.
"These are the kinds of things we should be doing to protect our country," he said. "We have to rely on electronic surveillance to find out what the enemy is up to.
"No one calls me a rubber stamp for the government," he said.
In fact, Lamberth challenged the Bush administration before his term leading the secret court expired in 2002, saying that the government misled the court dozens of times in applications for search warrants and wiretaps. He also rejected the Justice Department's request for new powers.
Even after he left the FISA court, Lamberth's colleagues sought his counsel. When Judge Colleen Kollar-Kotelly took over as chief in 2002, she was given a classified briefing on President George W. Bush's secret and warrantless surveillance program and was instructed by the National Security Agency's director not to discuss the program with fellow judges.
Kollar-Kotelly insisted that she be allowed to consult with Lamberth, according to two people familiar with her request. The administration agreed that she could, according to an unredacted version of the NSA inspector general's report.
Lamberth's straight talk has gotten him in trouble. His frustration with the Interior Department's failure to properly account for money long owed to Native Americans prompted him to hold two Cabinet secretaries in contempt and order sanctions against agency lawyers.
He compared the department to a dinosaur and called it "the morally and culturally oblivious hand-me-down of a disgracefully racist and imperialist government."
His language was so strong that Lamberth was taken off the case by an appeals court in 2005, after the Justice Department took the unusual step of requesting his removal.
In retrospect, Lamberth said he regrets what he described as his "intemperate" language. But he added that just because the appeals court's decision was final, "it doesn't mean they are right."
At the insistence of his wife, Janis, Lamberth cleared piles of court papers from his desk in preparation for his transition to a senior judge, in which he will take a reduced caseload.
He'll also spend two months of the year hearing cases in San Antonio Bankruptcy Court (W.D. Texas).
Lamberth's sly sense of humor created a minor stir Monday when he reminded well-wishers that he was rejoining the court's rotation for case assignments. Lamberth closed his remarks by joking about the possibility of a federal case against Mayor Vincent C. Gray (D).
"I could draw anything, including the mayor," he said.
With the audience chuckling, Lamberth added: "Oops — I don't know anything about that."
At Lamberth's celebration was U.S. Attorney Ronald C. Machen Jr., who has been investigating an alleged off-the-books shadow campaign for Gray by D.C. businessman Jeffrey E. Thompson. Neither Thompson nor Gray has been charged.
When asked to comment on Lamberth's joke, Machen gave a smile but declined.
Senior Judge Royce C. Lamberth
Royce C. Lamberth was appointed United States District Judge for the District of Columbia on November 16, 1987. He served as Chief Judge from May 1, 2008 to July 15, 2013, at which time he became a Senior Judge.
Judge Lamberth, a native of San Antonio, Texas, graduated from the University of Texas, receiving a B.A. degree in 1966 and from the University of Texas School of Law, receiving an LL.B degree in 1967. He served as a Captain in the Judge Advocate General's Corps of the United States Army from 1968 to 1974. After service at Fort Bragg, North Carolina, and in Vietnam, Judge Lamberth served in the Litigation Division of the Office of the Judge Advocate General of the Army at the Pentagon from 1971 to 1974.
Judge Lamberth served as an Assistant United States Attorney for the District of Columbia from 1974 to 1987. He was Chief of the Civil Division of the United States Attorney's Office, 1978 – 1987.
Judge Lamberth is married to the former Janis K. Jost of San Antonio.
He is former Chairman of the Federal Litigation Section of the Federal Bar Association, and a member of the American Bar Association and the Bar Association of the District of Columbia, and the District of Columbia Bar.
Judge Lamberth is also former Chairman of the Professional Ethics Committee of the Federal Bar Association. The Federal Bar Association's Model Rules of Professional Conduct for Federal Lawyers, finally approved in October 1990, were drafted by Judge Lamberth's Committee.
Judge Lamberth was appointed by Chief Justice Rehnquist to be Presiding Judge of the United States Foreign Intelligence Surveillance Court on May 19, 1995. That appointment ended May 19, 2002.
Judge Lamberth served as a member of the Judicial Conference of the United States from May 2008 to July 2013. He also served as a member of the Judicial Conference's Committee on Automation and Technology from 1990 to 1996, and from 2003 to 2008, served as Chairman of the Judicial Conference's Committee on Inter-Circuit Assignments.
Chief Justice Roberts appointed him to again Chair the Inter-Circuit Assignment Committee, effective October 1, 2013. (He was replaced in 2018)
New SEC enforcement chief abruptly resigns after judge questions 'unhinged' claim in BigLaw case
APR 29, 2021 | REPUBLISHED BY LIT: MAY 9, 2021
The U.S. Securities and Exchange Commission's new enforcement chief, Alex Oh, abruptly resigned Wednesday after a federal judge said he was considering sanctions for a claim that she made about her opposing counsel's demeanor before she left her BigLaw firm.
Oh's resignation letter said a "development" in one of the cases that she worked on in private practice couldn't be addressed without creating "an unwelcome distraction" in her new role.
U.S. District Judge Royce Lamberth of the District of Columbia said in an April 26 order Oh's legal team claimed that opposing counsel had been "agitated, disrespectful and unhinged" during a deposition without providing any evidence to support those claims.
He ordered Oh and the legal team to show cause why he shouldn't order sanctions.
Lamberth said his order should be served on Oh, who was a partner at Paul, Weiss, Rifkind, Wharton & Garrison during the litigation. Paul Weiss was representing the Exxon Mobil Corp. and ExxonMobil Indonesia in the lawsuit, which alleged military personnel providing security for Exxon facilities in Indonesia sexually assaulted, kidnapped and tortured nearby residents.
Lamberth also awarded attorney fees and other expenses to the plaintiffs for their motion to compel discovery and award sanctions and for taking new deposition testimony.
The plaintiffs filed their motion to compel discovery and impose sanctions Feb. 23. The motion said, rather than answering questions during a deposition, a witness for ExxonMobil Indonesia "would apparently read verbatim from a lengthy and nonresponsive script that was not visible from the video camera angle."
When the plaintiffs' counsel asked the witness whether his testimony had been written by lawyers, he repeatedly said the script was a "distillation" of his discussions with lawyers. At other times, he avoided a straight answer by saying he didn't know who the typist was, the motion said.
The witness was the regional general counsel of the Asia Pacific region for Exxon and its affiliates.
Exxon Mobile Corp. and ExxonMobil Indonesia opposed the request for sanctions and also included a cross-motion for sanctions in a March 9 memorandum. The document was signed and submitted by Oh, although other Paul Weiss lawyers were also listed on the document.
The memorandum argued that the plaintiffs' counsel used much of the deposition time "badgering the witness about the origins of notes on which he relied." Much of the seven-hour deposition was spent by the plaintiffs' counsel "attempting to elicit misleading 'gotcha' moments or sound bites," the Paul Weiss memorandum said.
The Paul Weiss memorandum said the opposing counsel became "indignant and adversarial" during the deposition.
The "unhinged" allegation was in this footnote: "While plaintiffs' counsel contends that defense counsel's comments to him to calm down distorted the record because he was 'calm and entirely professional' throughout the deposition, … the record demonstrates the opposite: The deposition became contentious from the beginning because the questioning attorney became unhinged upon discovering that the witness had notes and repeatedly attacked and baselessly threatened to seek sanctions against the witness and counsel for using notes and asking clarifying questions. … Defense counsel had no choice but to speak up repeatedly to defend her client and herself against the questioning attorneys' browbeating and disrespectful behavior."
The Paul Weiss cross-motion also says: "Until this motion, defense counsel had never been accused of engaging in sanctionable conduct during the entirety of her career."
Paul Weiss chairman Brad Karp told several publications covering the resignation that the firm couldn't comment on the matter because it involves ongoing litigation.
"Alex is a person of the utmost integrity and a consummate professional, with a strong ethical code," Karp said.
Home confinement for Zip Tie Son and Mom charged in Capitol riot
Appeals court Reverses federal judge Lamberth, ordering he immediately authorize the release of a Georgia woman and her Tennessee son on charges for their involvement in the Jan. 6 riot at the U.S. Capitol
APR 29, 2021 | REPUBLISHED BY LIT: MAY 9, 2021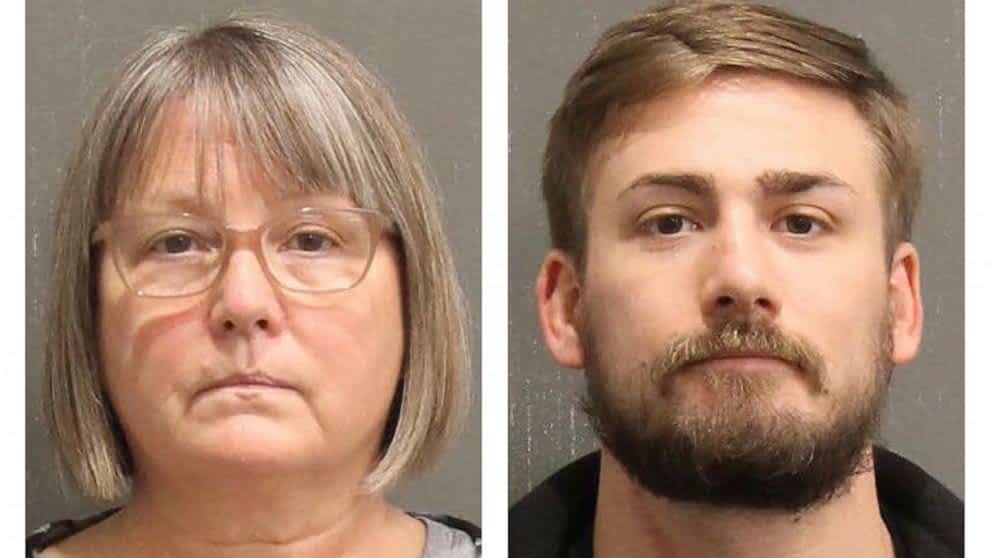 A federal judge on Monday who was reversed on appeal, has now released a Georgia woman and her Tennessee son on charges of involvement in the Jan. 6 riot at the U.S. Capitol.
Lisa Eisenhart is accused of breaking into the Capitol with her son, Eric Munchel, who was photographed carrying flexible plastic handcuffs in the Senate chamber.
U.S. District Judge Royce C. Lamberth in Washington, D.C., authorized the release of Eisenhart and Munchel to "third-party custodians" and placed them on home confinement along with other conditions. They will have their locations monitored and are banned from using the internet or contacting others involved in the Jan. 6 events.
Those conditions had been established previously by a federal magistrate in Tennessee.
The two were previously ordered detained BY LAMBERTH pending trial, but a federal appeals court for the District of Columbia ruled Friday that the lower courts "gave no plausible explanation for why these stringent (release) conditions would not reasonably ensure public safety."
"Putting it all together, because the record strongly suggests that Munchel and Eisenhart would present no safety risk if subjected to strict release conditions, the district court clearly erred in finding that the government had proved its case by clear and convincing evidence."
After the appeals court's decision, federal prosecutors withdrew a motion to detain the pair pending trial.
Eisenberth and Munchel face April 13 hearings by videoconference before the Washington, D.C., federal court. They are charged with violent entry and disorderly conduct on the Capitol grounds, conspiracy and civil disorder. They could each face up to 20 years if convicted.
Prosecutors say the two wore tactical and bulletproof vests in the Capitol and Munchel carried a stun gun. Munchel also recorded their storming of the Capitol, and prosecutors say that video shows the pair stashed weapons in a bag before entering the building. A search of Munchel's Nashville home turned up assault rifles, a sniper rifle with a tripod, shotguns, pistols, hundreds of rounds of ammunition and a drum-style magazine.