LIT COMMENTARY
JULY 8, 2021
The motion herein submitted by the Burkes is in response filings at  the circuit court as discussed in LIT's article of July 7, 2021.
APPELLANTS' MOTION TO CLARIFY
Appellants, Joanna Burke and John Burke ("Burkes"), now file a motion to clarify the following;
BACKGROUND & ARGUMENT
On June 21, 2021 the panel comprising Chief Judge Priscilla Owen, along with Judges' Dennis and Davis DENIED the Burkes motion for reconsideration, requesting the acceptance of the Burkes Petition for Rehearing without a "Statement of Facts".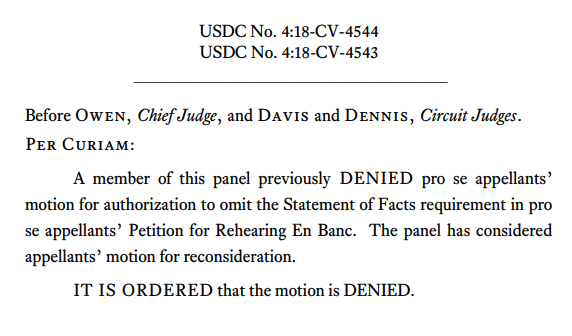 On June 29, 2021 this court issued a letter with two of the Burkes date-stamped Petitions; namely the original petition of April 13 and subsequent petition addressing all the original deficiencies as requested by the clerk as filed on May 17.
The letter intimates this court is now accepting the Burkes petition of May 17 and has 'backdated' this Petition  to the April 13 event.
However, the May 17 Petition is erroneous, as it includes the following section ("Statement of Facts") and the Burkes seek to remove the offending section and make change(s) to the Petition;
Secondly, during other correspondence with the court, the Burkes were advised by clerk Jann Wynne's email autoresponder that she was on vacation until July 20, 2021, and so sending any filings to her email during this period could be problematic.
This court has previously experienced 'email glitches' with regards to the Burkes email submissions, namely non-receipt of the judicial complaint against Senior United States District Judge David Hittner, S.D. Tex.
RELIEF REQUESTED
First, the Burkes wish to;
(a) obtain a corrected judgment from this court granting the denied motion to omit the Statement of Facts and shall be filing a motion separately to request this relief;
and
(b) filing a separate motion to obtain an extension of time to resubmit their new Petition without the Statement of Facts section along with any other modification as they may wish, relying upon due process of law afforded civil litigants per the Fourteenth Amendment of the United States Constitution. The Burke will then file the new  Petition for Rehearing En Banc, along with a copy of this courts' March 30, 2021 order,
and;
(c) herein request clarification the email of any newly filed Petition and supporting 3-Panel Court Order to clerk Jann Wynne's court email is sufficient (See letter, in part; "As previously instructed, once you have prepared your sufficient rehearing, you must email it to: Jann_Wynne@ca5.uscourts.gov for review.") when she is on vacation until July 20, 2021 – or whether the court's pro se email should also be copied – or another email as specified by the court to ensure receipt of any future filings as mandated.
CONCLUSION
Appellants Joanna & John Burke civilly request the relief requested herein.
DATED:   July 8, 2021